Vintage cameras can produce many different looks for the photographs you take. By combining different format cameras and film types, you can create new effects that add an artistic flair to your work. Lo-mob by Aestesis allows you to create your own lo-fi photos on your iPhone.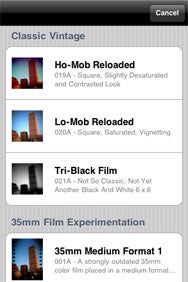 Using Lo-mob is very simple. After launching the $2 app, you open a photo from your camera roll (or take one from within the app if you're using an iPhone), and Lo-mob immediately generates a preview list all of filters. The preview shows you not only a thumbnail preview of the look you can expect, but a short description of each filter. The filters are broken down by film and camera type. You can pick from 40 filter, ranging from Classic Vintage (a Holga-type look) to 35mm Film Experimentation (with virtual film sprockets showing on the edges) to Through The Viewfinder (a variety of classic medium format styles).
One of the Lo-mob's nicest features is its ability to create a preview of each filter immediately. This allows you to scroll through the extensive list of filters, and when you find one you'd like to try, all you need to do is tap to create a full size preview. At this point, if you're happy with the result, you can save the photo directly to the camera roll or share it via e-mail as well as through a variety of social media services such as Facebook and Flickr.
If you like the idea of experimenting with the iPhone photos you take, Lo-mob gives you a lot of lo-fi options. By adding retro effects, you'll be able to give your photos a vintage feel and quickly create photos that feel as though they were taken with a classic old camera instead of a start-of-the-art smartphone.
[Macworld Contributor Beau Colburn lives in Boston and posts iPhone photos on his site Snap different.]