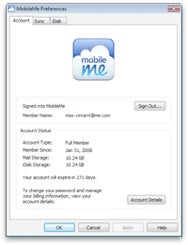 Apple appears to be making steady progress on the major MobileMe Calendar upgrade that it announced last week. The new version is currently in private beta, and on Monday Macworld gave you a first look at the new features. Now, Apple has announced its first update since launching the beta: compatibility with Outlook on Windows.
On its official MobileMe News blog, Apple announced a small MobileMe Control Panel update to version 1.6.1. This update allows Windows XP, Vista, and 7 users in the beta to view and edit their calendars in Outlook. Users who also sync with an Exchange Server need not worry—Exchange and MobileMe data are stored separately.
As Macworld covered in its first look at the Calendar beta, Apple is making a significant architectural shift to the CalDAV standard for storing and editing calendar data. Mac OS X gained support for CalDAV in 10.6 Snow Leopard Server; this is what enables many of the new end-user features of the beta, such as push notifications and collaborative editing.
The MobileMe Control Panel currently has some limitations for users who opt into the Calendar beta. Push calendar updates are not supported on Windows, and neither is accessing MobileMe calendars via Outlook from behind a proxy server.
The new Control Panel is a free update for Windows users. It can be downloaded from Apple's site or via Apple's Software Update client on Windows.