Only minutes after the Q&A session for their press conference on iPhone 4 antenna issues wrapped up, Apple has uploaded a streaming video of that press conference for all to see on its Website. This video lacks the Q&A session, but does contain the entire presentation as delivered by Steve Jobs, including the tongue-in-cheek YouTube video that kicked it off.

In addition to the streaming video, Apple has also posted an antenna performance page that demonstrates the loss of signal when various phones, including Apple's, are held in specific ways. For these comparison videos, the iPhone 4 and 3GS shown on the page are running the latest 4.0.1 version of the iOS software, released Thursday.
The three competing phones—the BlackBerry Bold 9700, the HTC Droid Eris, and the Samsung Omnia II—are all smartphones released in November 2009. The first is a common BlackBerry available on AT&T and T-Mobile, while the other two are Android and Windows Mobile 6.5 phones, respectively, exclusive to Verizon. Apple reports that each of these phones can lose between three and four bars when the user holds them near the portion which covers the antenna. By comparison, the iPhone 3GS loses only two bars when the user gripped the lower half of the phone, and the iPhone 4 also loses two bars when its black strip is covered.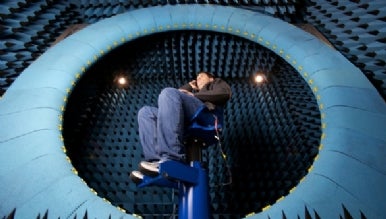 This new section of Apple's site includes a page that shows off the company's testing facilities. Apple boasts that it has 17 different anechoic chambers, which look not unlike the secret lairs of James Bond villains, to test a variety of conditions that may affect wireless performance.
Apple also states that its engineers extensively tested the iPhone 4 outside of its labs, in cities across the U.S. and the rest of the world. Apple tested the device in a broad variety of scenarios, including dense urban areas, in motion at high and low speeds, and across both low- and high-coverage areas. It tested in "nearly every possible coverage scenario," paying attention to call quality, dropped-call performance, call origination and termination, and in-service time.
Apple reiterates Steve Jobs's claim that the company has invested $100 million dollars and thousands of testing hours on its mission to make great products. This new section of Apple's site offers a rare glimpse inside of Cupertino's labs, and almost makes the dull science of engineering wireless hardware seem fascinating.
32GB iPhone 4 (GSM, AT&T)
Price When Reviewed:
$599
16GB iPhone 4 (GSM, AT&T)
Price When Reviewed:
$485