The iPhone 4 and iOS 4 update have proven to be especially useful for people who share their photos online. With the iPhone 4's 5-megapixel camera and iOS 4's background uploading abilities, users are more inclined than ever to snap away and share their iPhone photos and videos on sites like Flickr and Facebook.
The Flickr app is the latest to take advantage of these new technologies. It's now been updated to support iOS 4's multitasking, plus it can also upload HD videos and post photos to Twitter right from the app.
The free app integrates with the Flickr photo-sharing site, letting you shoot, upload, and share photos from your mobile device. You can also use the app to geotag your photos, and add them to a set.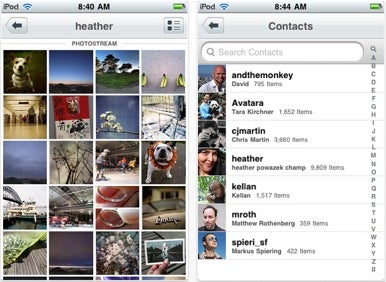 Now, when uploading a photo via the Flickr app, you can switch out of the app and the photo will continue to upload in the background. Support for fast app switching has also been added, so when you return to your Flickr app, it will be right where you left off.
Also new is the ability to post photos to Twitter using a flic.kr short URL directly from the app, though it's only an option when you're uploading a new photo from your device. Finally, you can now upload HD videos with this app, which should please iPhone 4 users who'd like to share the HD videos they've snagged while out and about.
The Flickr app is compatible with iPhone, iPod touch running iOS 3.0 or higher.