Parking Mania HD is an addictive strategy puzzle game by Chillingo. The $3 game succeeds on numerous fronts, and smartly offers three unique control schemes—but gamers should beware of one potential weakness with those controls before they buy the game.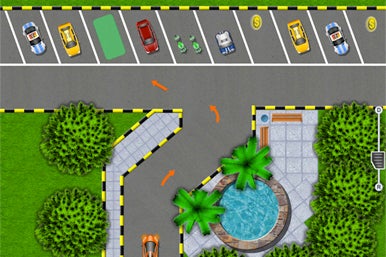 But before we get into the controls, let's look at everything else. Parking Mania HD sports 80 unique levels. In each one, you're tasked with navigating cars across often-busy and complex roadways, guiding them quickly and precisely into specific parking spots. It's a fine premise, and in many ways it's executed well.
As you'd expect from Chillingo, the visuals are fun, and the soundtrack is enjoyable. You're presented with an overhead view of the level's roadway, and there are plenty of cutely-drawn cars and trucks. Cut someone off, and you can expect to hear some angry honking.
If you bump into any of the plentiful obstacles, you lose one of your five lives for that level. Crashing into another car means you lose all five lives at once. But Parking Mania HD is pretty forgiving: When you're out of lives, you instantly can start the level over again. (Of course, that can get a little aggravating on a level where you need to park a handful of cars, and you crash while parking the last one.)
The game's difficulty increases steadily, with clever new challenges—more lanes of traffic, more cars to park, etc—introduced at a good pace. You're rewarded with points at the end of each level based on how quickly you parked and how many lives you have left. You can also pick up bonuses scattered throughout each level, if you're into that sort of thing. It's nicely implemented, and it's clear that plenty of thought went into the game's design.
But as I referenced at the outset, I'm less sold on Parking Mania HD's controls. You can choose to steer via the accelerometer, tilting your iPad left and right. If you don't like that, you can instead enable a driving "slider" that you slide from side to side to steer. And if you don't like that, you can turn on a steering wheel, which appears near the bottom-left corner of your iPad. You can even flip the controls in any of those three modes.
They all work adequately enough in theory, but I find that things can get a bit hairy in practice. When the car I'm driving faces the same direction as me (i.e., if it's on the bottom of my screen, driving towards the top), steering is intuitive in all three modes, and the accelerometer option works the best. The problem is that when the car is facing a different direction from you—say, driving from the top of the screen down, or driving horizontally across the screen—steering gets far less intuitive. When the driver's left-hand side is my right-hand side, for example, I'm forced to turn left to make the car go to my right, and vice-versa. If you've ever tried to fix your hair while staring at a live, non-mirrored video feed of yourself, you know how disorienting it can be when lefts and rights get mixed up. In Parking Mania HD, you're faced with this situation all the time, since you're often turning and pointing the car in a new direction.
Clearly, this isn't an issue for most gamers: 75 percent of the iTunes ratings for the iPhone version of Parking Mania are perfect, 5-star reviews. For some players, however—myself included—steering can feel a little tricky in ways that aren't exactly fun. I enjoy Parking Mania HD for the challenges it presents in terms of navigating roadways, obstacles, and other cars. The part that makes my brain hurt—figuring out which way I need to steer to make the car go the way I want— is less entertaining. Of course, I fully appreciate that this is seemingly a hindrance to a minority of iTunes reviewers (although I was certainly reassured to learn that I'm not the only one).
Impressively, even in spite of my occasionally herky-jerky steering, I find that Parking Mania is a joy to play. The game takes great advantage of the iPad's screen real estate, escalates the difficulty at a good clip, and offers plenty of replayability as you aim to best your scores across all 80 levels. I'd just recommend spending some quality time with the free Parking Mania Lite iPhone app and its three levels, to determine whether the steering controls mesh well with your brain.
[Lex Friedman drives people crazy with his blog.]