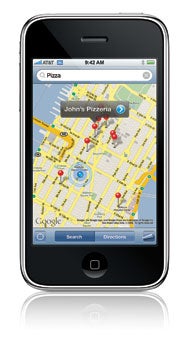 With its slower processor and limited memory, the iPhone 3G doesn't support all of the new features in iOS 4—most notably, multitasking. Even with the reduced features, we've heard complaints of sluggish performance of iOS 4 on the iPhone 3G. We wondered if battery life was also negatively affected by the OS update, so we set out to test it.
Following Lifehacker's instructions, we downgraded an iPhone 3G that was running iOS 4 to iOS 3.1.3 and ran a series of tasks. We then upgraded the iPhone 3G to iOS4 and ran the same set of tasks.
The iPhone 3G with iOS 4 lasted 5 percent longer (10 minutes) than the iOS 3-configured iPhone 3G. That's not a big difference, but frankly, I thought battery life would decrease, not increase, after updating the OS. Interestingly, the iOS 3 iPhone took less time to download our rented movie than the iOS 4 iPhone 3G, though the application downloads were faster with the new OS. (Complete test results are listed in Table 1 below.)
To see what difference iOS 4 made in terms of battery life on the iPhone 3GS we ran the same tests yet again. It turns out that downgrading an iPhone 3GS is no easy feat and our attempts at doing so failed on the iPhone 3GS phone at the Macworld office.
Luckily, our intern Blair found a friend who had not yet upgraded her iPhone 3GS to the latest OS, and so he spent a couple of days testing that iPhone with both operating systems. (Complete test results are listed in Table 2 below.)
In these tests, there was an even greater increase in battery life with iOS 4, with the updated iPhone 3GS lasting 14 percent longer (35 minutes) than with iOS 3. This time, downloading our rented movie took less time in iOS 4 than in iOS 3.
Table 1: iPhone 3G timed trials iOS 3 vs. iOS 4
| | iPhone 3G iOS 3.1.3 | iPhone 3G iOS 4.0 |
| --- | --- | --- |
| Phone call | 35 | 35 |
| Wi-Fi Internet surf | 16 | 16 |
| Download game on Wi-Fi | 2 | 1 |
| Play downloaded game | 10 | 10 |
| 3G Internet surf | 15 | 15 |
| Download game via 3G | 2 | 1 |
| Play game | 20 | 20 |
| Download rented movie | 33 | 48 |
| Watch movie | 67 | 64 |
| Total minutes | 200 | 210 |
Scale = minutes
Table 2: iPhone 3GS timed trials iOS 3 vs. iOS 4
| | iPhone 3GS iOS 3.1.3 | iPhone 3GS iOS 4.0 |
| --- | --- | --- |
| Phone call | 35 | 35 |
| Wi-Fi Internet surf | 16 | 16 |
| Download game on Wi-Fi | 3 | 2 |
| Play downloaded game | 10 | 10 |
| 3G Internet surf | 15 | 15 |
| Download game via 3G | 2 | 4 |
| Play game | 20 | 20 |
| Download rented movie | 20 | 15 |
| Watch movie | 126 | 165 |
| Total minutes | 247 | 282 |
Scale = minutes
[James Galbraith is Macworld's lab director. Blair Hanley Frank and McKinley Noble contributed to this report.]