Are you between the ages of 6 and 10? Are you unafraid of circus clowns? If you answered yes to both of these questions and still somehow have access to an iPhone or iPod Touch, Eurocenter's Cocoto Magic Circus is the game for you.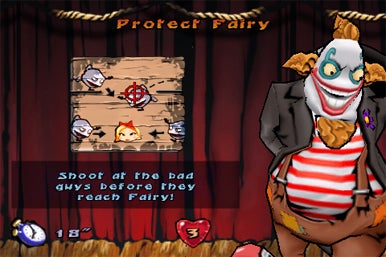 The premise behind Cocoto Magic Circus is revealed in an introductory video every time you open the app. Five friends, a fairy and four gnome/devil-like creatures, wander upon a circus tent when suddenly, a terrifying clown comes out and kidnaps the fairy. It's up to Cocoto and his friends to complete a bunch of carnival shooting games put on by the clown in order to save their fairy friend. See, kids? You should be afraid of clowns.
Each round consists of different challenges that include shooting matching tiles or shooting down bad guys. The bad guys are awesomely designed misshapen creatures that resemble rocks, bats and frogs. In fact, the graphics and animation in Cocoto Magic Circus are really cool and definitely constitute one of its strong points. In between each round, the ridiculously scary clown mocks and leers at you.
Circus balloons (the game is chock-full of balloons) occasionally float by giving game bonuses or penalties if shot. Despite some 3-D-ish graphics, essentially Cocoto Circus is a rip-off of Ninendo's Duck Hunt, which is not a bad thing at all. Duck Hunt is considered by many to be one of the greatest games of all time. The point is that after while, the levels begin to get repetitive because all the gameplay really involves is pointing and shooting.
The different character choices and difficulty levels don't really add much variation, and fatigue sets in pretty quickly. Luckily, you end up hating that clown so much that it drives you to slog through the levels in hopes that you'll eventually get to shoot him in his scary clown face. Thankfully, you get more of a payoff than in Duck Hunt, where you never truly get revenge on that laughing dog.
This is just one of several games that Cocoto and his friends star in, including Cocoto Kit for Kids and Cocoto Kart Online, both of which also seem to be designed for an age group that might not yet be old enough to pay for an AT&T dataplan. If you have a little one who loves to suck up your iPhone or iTouch battery life and who can handle the creepy clown featured throughout the game, Cocoto Magic Circus is worth the $3.99.
[Bryan Schell is more terrified of clowns than ever.]