Do you dream of producing your own Hollywood movie? And, instead of plunking down cash, playing "match-3" games to fund it? If that's the case, Namco's Tinseltown Dreams for the iPhone is the only way in which your dream can become reality.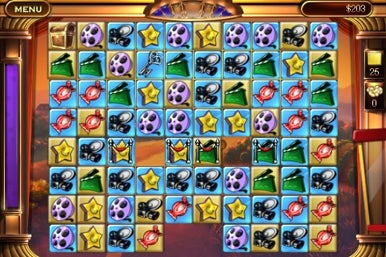 Tinseltown Dreams is a pretty basic match-3 game with a movie-making element. You are a poor producer in 1950's Hollywood, trying to earn a budget by playing match-3 games. You must swap adjacent tiles to match 3 or more pictures, turn gold tiles into regular tiles, and earn bonuses for particularly long matches. After each round you can use your earned cash to hire the appropriate cast and crew for your movie—the more you can spend, the better your film will be.
While it's nice to have a match-3 game with a plot, Tinseltown Dreams has several issues. The match-3 levels quickly become frustrating and mostly based on luck, as locked squares, keys and chests, and gold tiles in corners are introduced. The tiles are tiny, and I often found myself having to hit tiles repeatedly to get them to register the swap—annoying, to say the least. Also, the "set design" part of the game (in which you can put your purchased crew, cast, and props in place on a stage) is tacked on and mostly a waste of your time (not to mention, the props are tiny and hard to manipulate).
If you like match-3 games—a lot—then Tinseltown Dreams: The 50's is worth checking out—it does give you a lot of gameplay and has a plot (unlike a lot of match-3's). However, if you're not a huge fan of match-3's to begin with, Tinseltown Dreams is likely to kill off any affection you have for the genre—the later match-3 levels are nothing short of tedious and really, really long.
[Macworld contributor Sarah Jacobsson is ready for her close-up.]