After Friday morning's Apple press conference about the iPhone 4 and its antenna issues, Apple executives took a small group of journalists (11 all told, including myself) on a tour of the company's wireless-testing facilities. We were, the executives said, the first outsiders allowed into the area, a spot off-limits to most Apple employees. Even our escorts from Apple's PR department said they hadn't been in there before.
On a sunny and hot day in Silicon Valley, we were led through the center of Apple's campus and then across the street to the building housing the testing area. Behind a series of heavy security doors, we met Ruben Caballero, a senior Apple engineer and wireless expert. (Caballero, you might remember, was the subject of a Bloomberg report on Thursday suggesting that he had warned Steve Jobs about antenna problems in advance of the iPhone 4's release — a report referred to by Steve Jobs on Friday as "total bullshit.") The point of the tour was clear: to show that Apple takes the testing of wireless issues very seriously, and that suggestions that the company was simply sleeping on the job when it came time to test the iPhone 4 are misguided.
Despite being a guy who obviously spends most of his time behind closed doors working on fiendishly complex radio engineering problems, Caballero proved to be an excellent tour guide, answering reporters' questions with enthusiasm. As he welcomed us into his lair, Caballero pointed out that many of the workbenches around us were draped with black fabric. "This is what we call a black lab," he said, meaning that they're testing secret stuff. "We have to cover all the benches when anyone comes in, even people from within Apple."
"The existence of this lab used to be secret," an Apple PR representative pointed out. "Now it's not." Not since Steve Jobs showed detailed pictures of it to members of the press a few hours earlier, anyway. Apple has since also posted a page about its testing methods, including a video overview.
Apple's wireless lab has 16 different anechoic chambers—think of them as bank vaults, padded with foam shaped into pointy cones to stop all reflections, designed to create completely radio-neutral environments—at a cost Caballero estimated at $1.2 million per chamber.
"It was very simple in the old days," Caballero said, "when you had one antenna and one frequency." He pointed out that his first radio project involved a bunch of antennae on a football field. But these days, he pointed out, phones have in-built antennae, four GSM frequency bands, four UMTS frequency bands, they're sending and receiving massive amounts of data, there's Wi-Fi and Bluetooth and GPS as well—it's complicated.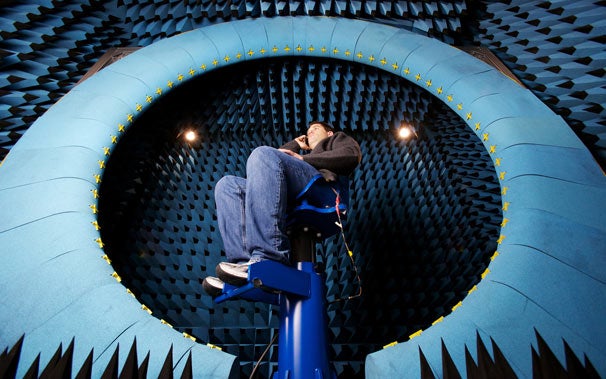 We toured several different chambers, and they're pretty eerie places. Caballero would occasionally step into a chamber, leading in a few reporters (they're generally far too small to fit more than a handful of people inside), and the moment he entered the chamber his voice became nearly inaudible, due to most of his sound being absorbed by the foam on the chamber's walls. Even the handles of the heavy doors are made of Fiberglas, and the doors are lined with copper to ensure the entire room is a Faraday cage.
The point of the chambers is to map the electromagnetic characteristics of a device by eliminating all other electromagnetic signals. The device to be tested gets placed in a chamber, and when the door is closed, it's cut off from the rest of the world. (There are antennae and sensors in the chamber, but they're all routed back outside the chamber to monitoring equipment on the outside.) Devices can be tested all by themselves, with just their radios turned on, and it can take as much as 25 hours to test a product through all frequencies. In a later stage, a device might be tested with more equipment active—monitors, other radios, and the like—in order to measure how those items affect the electromagnetic characteristics of the device.
Devices aren't just tested while seated on a rotating block of dielectrically neutral styrofoam. In addition, the labs run tests on hardware while it's being held by actual people. We're all mostly made of water, and that means we tend to absorb a lot of electromagnetic waves—in other words, we make a better door than a window. In one test chamber, an Apple employee sat on a rotating blue chair while holding an iPhone and resting his arms on a block of styrofoam. Surrounding him was a huge arcing instrument made by Satimo but affectionally called "the Stargate" by Apple engineers. This set-up allows Apple to measure the effects of a human body interacting with radio transmission and reception.
Then there are the "phantom heads"—and hands, and feet. These are proxies for human beings, used when living humans aren't necessary or early on in development when it's probably wiser not to expose humans to experimental radio radiation. A phantom head—the one we met was called "Sam"—is a mannequin-like head full of fluid, designed to match the dielectric characteristics of a human head, gray matter and fluid and all. Apple engineers can tape an iPhone to the side of a phantom head and then, inside an anechoic chamber, see what the results are.
Likewise, a phantom hand can be used to test what happens when a hand is holding a phone—we made a few jokes about if the phantom hand's fingers touched the wrong spot on the iPhone 4, but didn't really get any laughter from the Apple execs in attendance. And there's even a phantom foot, custom ordered by Apple so that the company could run radio tests on the Nike+ transceiver that goes in the bottom of a running shoe.
Caballero pointed out that testing products in the wireless labs at Apple isn't a linear process, from baseline tests to tests with phantom heads to test with real people. Instead, the testing ping-pongs back and forth, and can happen in parallel. Every time some component changes during the development of a product, Apple's engineers will re-test the product to see what those changes have done to its electromagnetic characteristics. The labs also will sometimes test products that have been returned by users as defective, in order to discover if there might be a production problem or other unanticipated error that is causing a defect.
Our last two stops on our tour were a CT scanner, purchased by Apple so that products can be scanned to search for defects, since actually opening up a product could change its electromagnetic characteristics and therefore make it impossible to get good test data. There's also a field-validation van, which can drive around and test radio reception in the real-world, equipped either with real humans or (to the terror of drivers who might spy one through a darkened window) phantom heads.
As we were escorted out of the building, Apple Senior Vice President Bob Mansfield summed up why Apple had gone to the trouble to take us into their labs. "This should give you an idea of the time, energy, and resources we put into design," he said. "There's no other way we could figure out how to make great products. There's real engineering going on here. If product design was simple, we wouldn't need" 16 anechoic chambers and a CT scanner.