Editor's Note: This story is excerpted from Computerworld. For more Mac coverage, visit Computerworld's Macintosh Knowledge Center.
Apple's news conference last week on the iPhone 4 antenna and reception fiasco gets an A- grade, but its overall response rates just a C, according to a crisis communications expert.
"For the test, I'd give Apple a B+ or A-, but for the entire semester, they get just a C," said Patrick Kerley, senior digital strategist with Levick Strategic Communications, a Washington, D.C.-based firm that specializes in crisis situations.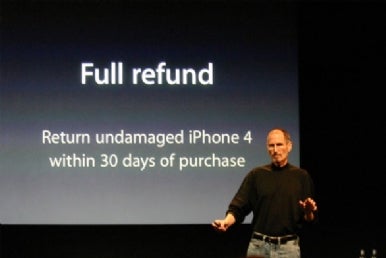 Although Kerley gave Apple CEO Steve Jobs high marks for the way he handled last Friday's press conference, during which Jobs defended the iPhone 4's antenna design and announced all buyers will receive a free case to improve reception, he knocked the company's slow response to the three-week incident.
"Apple got caught flat-footed," said Kerley. "By waiting as long as they did, they created a vacuum of news, and others stepped in, like Consumer Reports, to fill that vacuum."
Kerley was referring to the consumer testing and rating magazine that spurred the debate about the iPhone 4's antenna design on July 12 when it said it could not recommend the new smartphone—something it's done with every previous model produced by Apple — because it dropped calls and lost signals when users touched the external antenna.
Although complaints from consumers about the iPhone 4 dropping calls surfaced within hours of the smartphone's June 24 launch, media attention reached a crescendo last week after Consumer Reports first said it would not recommend the phone, then added that a case seemed to solve the problems.
Kerley applauded the way Jobs kicked off last week's press conference. "That was a good way for him to walk into the conversation," said Kerley of Jobs' defense of the iPhone 4. At the beginning of his 40 minutes on stage, Jobs showed how BlackBerry, HTC and Samsung phones also lose signal strength when held. "All smartphones have weak spots, this is not unique to the iPhone 4," Jobs argued.
"That's a pretty classic way to try to talk about a situation," said Kerley. "The idea is to soften the focus on Apple."
Kerley said other companies have used the same tactic, notably Johnson & Johnson nearly 30 years ago when it reacted to murders committed using cyanide-contaminated Tylenol. "They pointed out very clearly that everyone was using the same [bottle] technology," said Kerley of the 1982 incident. "But they were the ones who came out and said, 'We are going to be the best.'"
Apple should have done more earlier, though. "This wasn't a model for other companies to follow," Kerley said. "Not a lot of other companies can wait weeks to respond."
While Apple quickly acknowledged that holding the iPhone 4 could diminish the signal, its initial advice—"avoid gripping it in the lower left corner" or "use one of the many available cases"—struck some customers as insulting. A week later, Apple muddied the water by admitting that the iPhone 4's signal strength formula was flawed, a clear misstep, according to Kerley.
"Their message was different from one week to the next," Kerley said.
In today's climate, where bloggers seize on stories and consumers can quickly flood Twitter with negative comments, it's critical that companies react quickly, if not immediately, when issues arise.
"They didn't have to have a solution, but they needed to get out in front of it with a statement that they were working on it," Kerley said, when asked what he would have told Apple if they had been a Levick client. "They should have simply acknowledged the fact that the iPhone 4 has reception problems, said 'We're getting reports of problems, and we're investigating,' then sit on that message throughout," said Kerley.
Not everyone agreed that Apple blundered in its handling of what Jobs himself called "Antennagate" on Friday.
"One of the worst things you can do is appease bloggers, especially when it's a technical issue," countered Michael McGuire, an analyst with Gartner Research. "Apple had to be very careful about how to position [the iPhone 4's problems] and how to disclose them."
That was important because of posts by people McGuire called "amateur engineers" had made all kinds of technical claims about the iPhone 4's ability to make calls and hold a signal. Apple had to have hard technical data in hand before it went to consumers.
And moving too fast, argued McGuire, risked making a bad problem worse.
"Reacting too quickly risks exacerbating the situation," he said, using—as an example of how not to deal with a crisis—Sony's 2005 response to news that BMG Music Entertainment music CDs planted a rootkit on unsuspecting users' Windows PCs.
"I think it's difficult, frankly impractical, to response immediately," opined McGuire. Apple needed to collect data—which he said Apple showed it did in the numbers Jobs cited of support call and iPhone 4 return rates, and was as on top of the PR emergency as anyone could have expected.
"They identified the problem early on, and then acknowledged the problem with the [signal strength] algorithm," McGuire said.
More importantly, both Kerley and McGuire agreed that Jobs did the right thing by expressing early in the press conference Apple's commitment to customers. "Jobs did what was more or less expected," said McGuire. "He put customers before anything, and got the message on that to customers."
Not everyone was as sanguine about Apple's response as McGuire.
Consumer Reports, for example, called the case giveaway a "good first step" in a message on its Web site Friday, but reiterated its no-recommendation position.
"Apple has indicated that this is not a long-term solution, it has guaranteed the offer only through September 30, and has not extended it unequivocally to customers who bought cases from third-party vendors," the publication said. "We look forward to a long-term fix from Apple. As things currently stand, the iPhone 4 is still not one of our Recommended models."
16GB iPhone 4 (GSM, AT&T)
32GB iPhone 4 (GSM, AT&T)
Note: When you purchase something after clicking links in our articles, we may earn a small commission. Read our affiliate link policy for more details.