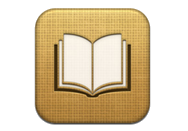 If you couldn't get enough minor update goodness on Monday afternoon, here comes a brand new version of iBooks, Apple's very own e-book and PDF reader.
iBooks 1.1.1 now lets you zoom in on any image and see it in all its high-resolution splendor. If you've been envying Kindle books with sound and video, iBooks 1.1.1 now offers support for both of those elements in future e-books. And for folks hoping to view PDFs in iBooks with less lag and drag, this update also promises substantial improvements when reading PDFs, though it still isn't as full-featured as devoted PDF readers such as GoodReader.
As for the less exciting fixes, this update adds the ability to look up definitions to English words inside books without a specified language; addresses an issue that kept some book downloads from completing, and takes care of "many" improvements to stability and performance.
iBooks requires a device running iOS 3.2 or later.