Photogene for iPad is a full-featured image editor from Omer Shoor. You can crop pictures with the $4 iPad app by dragging handles in a free form way or you can have a particular aspect ratio maintained while you crop. You can also rotate, flip or straighten photos in a snap.
The iPad app offers 16 different pre-set macros to apply to your image. Pre-sets include '20s Vintage, Vivid, LOMO, or Grayscale, among others. Most of these macros look really nice. You can also apply one of eight included filters such as Sepia, Edge blur or Heatmap, adjusting the filter's strength using a slider.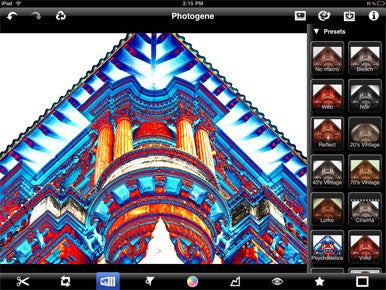 Sliders are a common tool in Photogene—the app uses them to let you adjust exposure, contrast, highlights, shadows, saturation, color temperature, levels, and RGB. There's also a curves editor and a red eye removal tool.
Photogene lets you augment photos, by adding different chat bubbles; you control the background color, text color, and font. You also have your choice of several different frames.
Photogene supports several undos as well as a reset button that returns your photo to its original state, so you can experiment without fear of permanantly altering the image. But once you've got your photo looking the way you want, you can save it to the iPad's photo library, upload it to Twitter or Facebook, copy the image to the clipboard, or e-mail it to a friend.
As with the iPhone and iPod touch version of the app, Photogene for iPad has a wonderful interface that makes using this mobile image editor very easy and intuitive. I was definitely impressed with all the different ways Photogene gives you to tweak your photos, and the results can look really nice. The iPad may lack a camera, but it's a great device for viewing photos; with Photogene, it's also a great device for editing them.
[Tim Mercer is a technology enthusiast, graphic designer, and blogger, whose blog, digital-artist-toolbox.com, offers free resources to the digital artist and graphic designer.]