Apple's Magic Mouse features the innovative functionality and sleek styling that Apple is famous for, but it's not always easy to keep the input device looking the part. It only takes a few scratches on the Magic Mouse's glossy white exterior to tarnish its pristine image, and we Mac users tend to be rather finicky about such things.
For those who want to protect their Magic Mouse's shiny surface, there's the Moshi MouseGuard, a wear-resistant, form-fitting thin film that protects the Magic Mouse from everyday wear and tear, while actually improving the tactile response of its touch-enabled surface.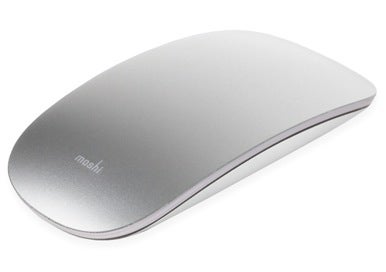 While the Magic Mouse's touch-enabled surface works just fine for most users, the MouseGuard's patented EZ-Glide surface treatment is designed to reduce finger gliding friction, which should give you easier maneuverability without loss of sensitivity. The MouseGuard can be installed in seconds, according to Moshi, and won't leave any residue when removed.
Like all Moshi products, the MouseGuard, which sells for $15, stays true to Apple's design aesthetics. You can choose between a white model that preserves the Magic Mouse's natural color, and a metallic silver model that mimics the brushed aluminum styling of newer Macs. Both choices not only look great, but should keep your Magic Mouse looking spic-and-span for quite some time.