If you're not too busy battling for Hoth, then strap yourself in, because your copy of Star Wars: Trench Run is about to make the jump to lightspeed. The game from THQ Wireless, first released last fall, has gotten a major update in version 2.0, adding a bunch of game modes—including the ability to man the gun turrets of the ship that made the Kessel Run in less than 12 parsecs. Oh, and THQ's added a few special modifications themselves.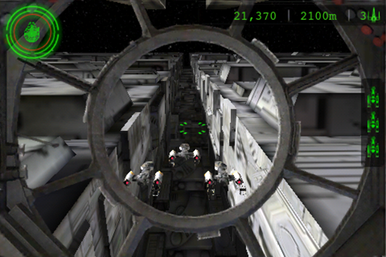 Version 2.0 lets you take control of the Millennium Falcon's gun turrets during the escape from the Death Star, fighting off TIE fighters while getting Princess Leia to the Rebel Base on Yavin IV. In a bit of non-canon hokery-pokery, you'll also have the opportunity to protect the ill-fated Gold Squadron's Y-Wings during their bombing run on the Death Star trench in both arcade and mission modes. There are four new ships in total, including the fastest hunk of junk in the galaxy. You can also opt to fly a Y-Wing, a TIE Fighter, and even Darth Vader's Advanced TIE Fighter itself.
In addition, a $1 in-game purchase option lets you use the iPhone version of Trench Run to control the version of game that you can play on StarWars.com. That version has also been recently updated, with better graphics, new 3D cockpits, and more.
Star Wars: Trench Run is $5 in the App Store and the 2.0 update is, naturally, a free update for current owners. The game requires an iPhone or iPod touch running iOS 3.0 or later, and it's compatible with iOS 4.
Just remember: the Force will be with you—always.