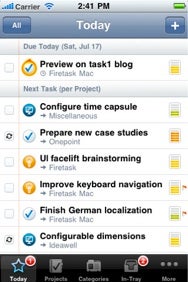 Task management on the iPhone and iPod touch gained a new friend in the war on procrastination this week, as a major upgrade to Firetask arrived on the App Store.
Made by independent developer Gerald Aquila, Firetask 3 has received a big interface overhaul, gaining a "more natural" task list and a convenient status control next to every task. The update also brings Firetask for iPhone into visual parity with an upcoming Firetask for Mac counterpart, now in private beta. The desktop version of Firetask will be able to sync with its mobile companion.
Firetask 3 now allows you to flag tasks to include them alongside tasks with due dates in the Today tab. This way, you don't have to mess around with editing and adjusting due dates just to get tasks to appear on your daily hit list.
Finally, support for iOS 4's Fast App Switching and the iPhone 4's Retina Display round out this Firetask upgrade. The update app is available now in the App Store for $5; it requires iOS 4.0 or later.