If you were a Mac user in the 1980s, chances are you knew—and loved—Apple's MacPaint drawing program, developed by Bill Atkinson. The application, which paved the way for programs like Photoshop by developing key tools like the paint bucket and lasso, has long been remembered fondly by developers and users alike—and on Tuesday, its source code was formally inaugurated into the Computer History Museum's online collection.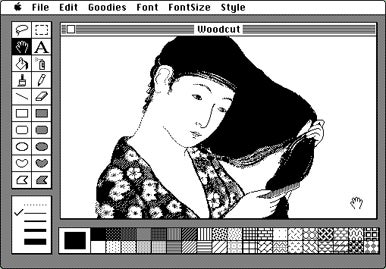 Bloomberg Businessweek has the full story of the program's journey from discarded diskette to museum piece. After declaring MacPaint "the best program ever written" at an event celebrating the Macintosh's 20th anniversary, Stanford University computer science professor Don Knuth asked those in attendance if they knew how he might get his hands on the original source code, to study it as research for an upcoming book.
In the audience that night was former Macintosh developer Andy Hertzfeld (who has become somewhat of a historian and author on the early Apple years). Out of curiosity, he called up Atkinson to see if he still had a copy of the code lying around.
Atkinson did indeed have a copy, though restoring it proved to be initially challenging, as the floppy disks had been formatted for a developmental OS version of Apple's Lisa computer. After finding a suitable machine to get "the bits out of the box," Atkinson and Hertzfeld then had to deal with the difficult task of convincing Apple, who still owned the software, to release the source code to the public for historical research.
Though Apple initially seemed amenable to such an idea, a series of unfortunate roadblocks prevented anything from happening until January of 2010, when Hertzfeld met with Steve Jobs personally to discuss the request. With Apple's CEO on the case, the request was pushed through almost immediately, and as of Tuesday the code is now freely available on the Web through the Computer History Museum.
Additionally, Apple has provided the museum with the source code to QuickDraw, a component of the OS that provided for the creation of bit-mapped graphics for MacPaint and other programs. According to Herzfeld, this source code alone (which amounts to 17,101 lines spread out over 36 files) made up about one-third the code of the entire original Macintosh operating system.
The Computer History Museum, in addition to hosting the source code for both MacPaint and QuickDraw, has provided a short history (with screenshots) of the programs, along with several anecdotes about the software. Creator Bill Atkinson describes the compiling of MacPaint as an "art form, like any other art form," and repeatedly emphasizes the beauty of clean, simple code.
To read more about MacPaint's history or to download the source code, you can visit the Computer History Museum's Website. Andy Herzfeld, who now runs Folklore.org, has several additional stories about the program, plus a gallery of MacPaint art made by former Macintosh UI designer Susan Kare.