The way Infoteria sees it, Twitter and Google Calendar are two great services that go great together. So why not mash them up into a single app for the iPhone and iPod touch?
That seems to be the idea behind TwitCal, a calendar app that also lets you tweet events. The $3 app, which had previously been available in the Japanese App Store, made its official debut in the U.S. store Tuesday.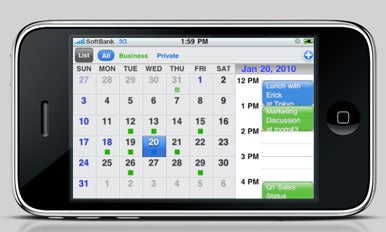 With TwitCal, users can post events they'd like to share—tweet-ups, conferences, birthday parties, concerts, and other get-togethers—to the microblogging service from within the app with a touch of a button. Once you've tweeted an event, TwitCal automatically sends updates to your Twitter stream. You can also import other users' tweeted events into the app where they're added to your calendar or share events via a built-in e-mail capability.
TwitCal can display multiple calendars in a single user interface, assigning different colors to each calendar. It also synchronizes with Google Calendar, letting users keep all their dates and events in a single app.
TwitCal offers standard calendar views—day, list, week, two weeks, and month. But it also lets users opt for a hybrid view that combines month and day views of the calendar.
You can also follow the calendars of other TwitCal users (with their permission, of course). And that's one of the key reasons Infoteria believes the app will appeal to event planners, social media professionals, and college students—the types of users who either want to publicize events or to follow what others are doing.
Infoteria has plans to keep augmenting TwitCal. Full support for iOS 4 is in the works, and the developer plans to add support for the Evernote information storage service later this year. In addition, an Android version of TwitCal should debut in the fall.
The app is currently available at the App Store for $3. It runs on iOS 3 and later on any iPhone or iPod touch.