A picture may be worth a thousand words, but you don't want to type all thousand in order to find the right one. Google has introduced a number of additions and updates to its search engine that improve its ability to search and browse images from around the Web.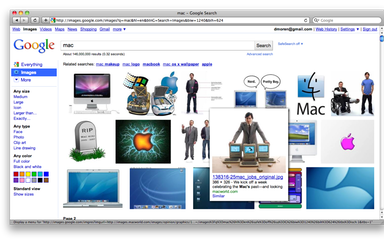 As outlined in a post on the Official Google Blog, the revamp, which is being rolled out across all of Google's markets, affects both the visual features and functional aspects of the service. Google Image Search was first launched in 2001 and now indexes over ten billion images.
Among the new features are an improved results screen. For example, an image search now brings up results that are laid out in a "dense tile" configuration, with no distracting text, to maximize the number of pictures that are shown in a single page.
In addition, users can move from page to page instantly, without having to wait for the browser to refresh the entire results screen—just keep scrolling down and Google will load them as necessary.
In the functionality department, the new image search is capable of better refining search results based on context. Thus, it is now possible to look for pictures that contain flowers of a specific color, or animals of a particular subspecies. Additional information about a particular result is also shown in a panel that appears when the mouse hovers on top of it, displaying details like the Website on which the image is hosted. Google's also made it easier to navigate results via the keyboard with the support for Page Up and Page Down keys.
Finally, the search giant has announced the launch of a new category of contextual ads, imaginatively called Image Search Ads, that appear alongside image search results and can feature a thumbnail image along with the ad text.