Staying on top of one's finances may not be a pretty job, but someone's gotta do it. Unless you have a someone (else), though, you probably have to serve as your own personal accountant, so IGG Software wants to make your job easier by releasing a public beta of iBank 4.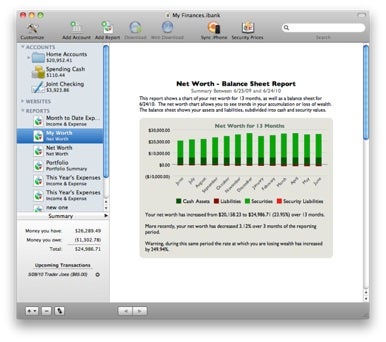 This major upgrade to IGG Software's self-described "gold standard for Mac financial management" brings a wealth of new features, including a redesigned interface for faster transaction entry and account monitoring; "seamless" setup assistants for importing from Quicken and Microsoft Money on Windows; a streamlined setup process for importing transactions from online bank accounts; "vastly upgraded" investment tracking features; better support for working with multiple currencies; significant speed enhancements; and more.
One of IGG Software's best improvements for prospective iBank customers? iBank 4 features a longer, 30-day unlimited trial period.
The iBank 4 public beta is open to any users for testing, though the standard "it's a beta, things might break, you'd better back up your stuff" warnings apply. Users are encouraged to sign up for IGG Software's beta test forums to report feedback and bugs. iBank 3 users can run the iBank 4 beta alongside the previous version without overwriting data or causing any other unwanted destruction.
iBank 4 requires Mac OS X 10.5.8 or later. iBank costs $60, but starting Tuesday, anyone who buys version 3 gets a free upgrade to version 4 when it comes out.