Record Mac sales and a strong debut for the iPad helped Apple generate $15.7 billion in sales and a profit of $3.25 billion during the company's fiscal third quarter. Apple's sales figures, revealed as part of the company's third-quarter earnings announcement Tuesday, mark a quarterly record.
Compared to last year's third quarter, Apple's revenue rose 61 percent from $9.73 billion. Profits rose nearly 78 percent from $1.83 billion.
On a per-share basis, Apple earned $3.51 per share, up 75 percent from the $2.01 it earned over the same period in 2009. The company's results beat analyst expectations of $3.10 a share and $14.74 billion in revenue.
"It was a phenomenal quarter that exceeded our expectations all around, including the most successful product launch in Apple's history with iPhone 4," Apple CEO Steve Jobs said in a prepared statement that accompanied the results. "iPad is off to a terrific start, more people are buying Macs than ever before, and we have amazing new products still to come this year."
"We're shipping the best products in Apple's history, and the response from our customers has been terrific," Apple chief financial officer Peter Oppenheimer said during a conference call with analysts after the results were announced. "And as a result, we are thrilled to announce… our highest quarterly revenue ever, surpassing the previous record set in the most recent holiday quarter."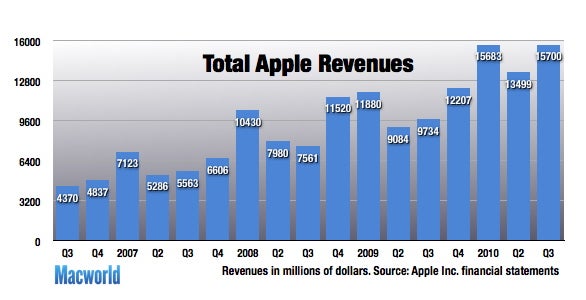 Record Mac sales
Apple sold 3.47 million Macs during the three-month period ended June 26, 2010—another quarterly record for the company that topped the previous high sales mark by 100,000 units. Mac sales increased 33 percent over the 2.6 million units Apple sold in the third quarter of 2009. Oppenheimer noted that Apple's 33-percent sales growth topped the 22-percent growth rate market research firm IDC projects for the overall computer market.
As would be expected in a quarter that saw Apple update both its MacBook Pro and MacBook product lines, portables drove Mac sales for the three months ending in June. Of the 3.47 million Macs sold, 71 percent were laptops.
"You have a little bit of yin and yang when you announce new portables," Apple chief operating office Tim Cook said. "You'll see a substantial move to portables when there's not a new desktop announced at the same time… But there's clearly a move to mobility, and in the long, long, long run, I think you'll see portables grow as a percentage, continually."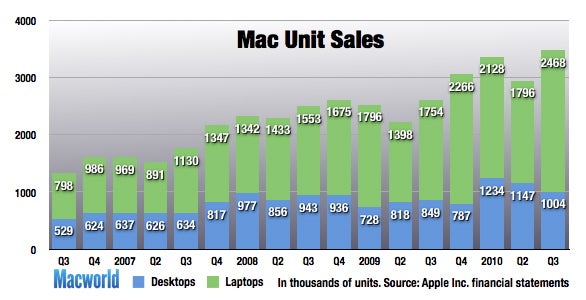 Apple also touted double-digit growth for its Mac business in all its geographic regions, with iMacs and MacBook Pros driving those sales. In addition, Oppenheimer said, Apple's education business recorded record sales for Macs despite many schools and universities facing tighter budgets.
"In Asia-Pacific, Macs grew 73 percent year over year," Cook said. "This is phenomenal that we could grow by this much, and in China we grew 144 percent. In Korea, we grew 184 percent. In Hong Kong, we almost doubled. And even in a country like Spain, where the economy has clearly been very difficult, the Mac grew 59 percent. And so there's some very extraordinary numbers in that."
iPad launch
The third quarter also marked the first full quarter of sales for the iPad, Apple's new tablet. Apple said it sold 3.27 million iPads during the quarter.
Apple saw $2.17 billion in recognized revenue from iPad sales during the quarter. The tablet is currently shipping in 10 countries, and Apple plans to introduce the iPad to 9 more countries on July 23. And the company said it's selling iPads just as fast as it's making them, while attempting to increase manufacturing capacity.
"If you look at how long it took us to sell the first million iPods, 20+ months versus one month of iPad, it's a phenomenal difference," Cook said. The iPad "is not following a typical early-adopter curve, taking a long time to cross into the mainstream," he said. "Our guts tell us that this market is very big, and we believe that iPad is really defining the market. And we want to take full advantage of it, so we are investing enormous time and resource in increasing our capability in getting iPad out to as many people as we can."
When asked by an analyst if Apple was concerned about the iPad potentially cannibalizing Mac sales, Cook suggested that the company was embracing the product as a possible way to boost Mac sales, while also seeing the opportunity in cannibalizing the sales of PCs.
"I think most people external to Apple focus on cannibalization as a negative, and internally we focus on exactly the opposite," Cook said. "The Mac has outgrown the market 17 straight quarters—however, the Mac share is still low. And so there's still an enormous opportunity for the Mac to grow. Certainly the more customers we can introduce to Apple through iPad, iPhone, and iPod, you would think that there might be some synergy with the Mac there. And there may be some synergy between the iPad and the iPhone as well… This is where it's great to have a lower share, because if it turns out that the iPad cannibalizes PCs, I think it's fantastic for us, because there's a lot of PCs to cannibalize. It's still a big market."
iPhone growth
Apple sold 8.4 million iPhones in the third quarter, a 61 percent jump over last year's figures. The iPhone 4, which debuted in the waning days of the third quarter, made up about 20 percent of those sales—or more than 1.7 million units. Apple called the iPhone 4 launch the most successful product launch in its history.
Consumer demand for the new phone has been so great, in fact, that Apple has had trouble filling orders. Last month, the company announced that it would delay the release of the white iPhone 4—it's expected to ship by the end of July. iPhone 4 orders placed through Apple's online store list a three-week shipping wait as of this writing. (In contrast, the 8GB iPhone 3GS ships within 24 hours.)
"We would like to fill every customer's order as quickly as we can," Cook said. "The demand for iPhone 4 is absolutely stunning, and we're working very hard to catch up…. I can't predict when that will occur, but I can tell you that everyone's working very hard to do it…. We are selling every unit we can make."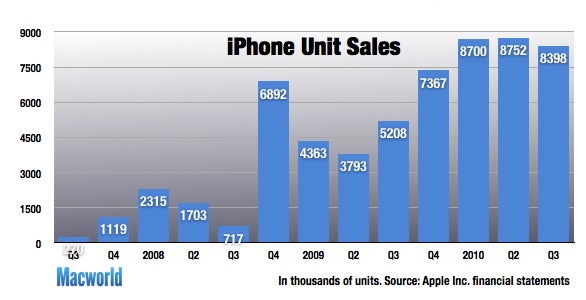 Apple saw recognized revenue from its handsets of $5.33 billion during the quarter, up 74 percent from last year's figures. Apple says the iPhone has a sales value of $5 billion, for an average selling price of $595.
Combining the sales of the iPhone, iPad, and iPod touch, Apple sales there are now 100 million devices running its iOS mobile operating system.
iPod falls
iPod sales fell during the third quarter of 2010. Apple sold 9.41 million iPods, a drop of 8 percent from the 10.2 million music players Apple sold in the year-ago quarter. The iPod segment has seen declining growth for some time now, particularly outside of the holiday shopping season. During the fiscal second quarter, iPod sales dipped by 1 percent while the 2009 third quarter saw a 7 percent decline in sales.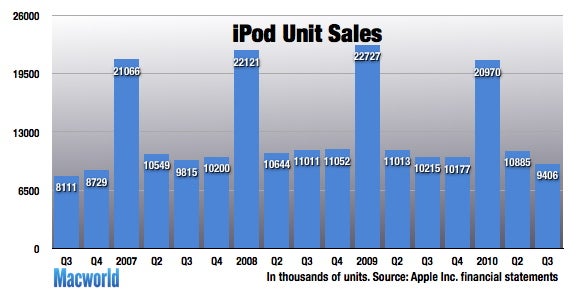 Apple isn't exactly wringing its hands over the decline in iPod sales, though. The music device remains the top-selling MP3 player internationally and continues to command a 70 percent market share in the U.S. More significantly to Apple, the iPod touch continues to grow—Apple says sales of that product were up 48 percent from the year-ago quarter, leading to a 12 percent increase year-over-year in average selling price for the music player. Apple's iPod segment saw quarterly revenue of $1.5 million, a 4-percent increase from last year.
As for the iTunes Store, Apple reported more than $1 billion in revenue, a growth rate of 25 percent year over year. The mobile app segment of the store has grown to 225,000 apps, with 11,000 specifically built for the iPad. Users have download more than 5 billion apps from the App Store, Apple says.
Retail figures
Apple ended the third quarter with 293 Apple Stores, after opening seven more during the three-month period. Four of those new stores were opened in the U.S., while two opened in Australia; the remaining new store was in Canada.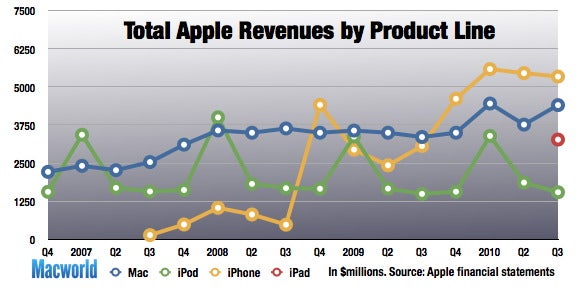 Retail stores generated $2.58 billion in revenue during the quarter, jumping 73 percent from the year-ago numbers. Apple sold 677,000 Macs via its retail stores, compared to 492,000 last year; half of the Macs sold at Apple Store were to customers new to the platform, Apple says.
Apple plans to open 24 stores during the fourth quarter. In addition to an outlet in Shanghai, China, that opened earlier this month, noteworthy store openings include ones in Paris, London, and Apple's first two stores in Spain.
Apple ended its fiscal third quarter with $45.8 billion in cash and short-term investments. That's up from $41.7 billion at the end of last quarter.
The quarter ahead
For the fiscal fourth quarter ending in September, Apple expects revenue of $18 billion and earnings per share to come in around $3.44. Analysts were predicting sales of $17.03 billion and earnings of $3.82 per share in advance of Apple's announcement on Tuesday.
Apple said it would defer revenue during the quarter as a result of its decision to offer free cases to iPhone 4 customers. Last week, the company made its free case offer after reports of reception problems related to the placement of antennas in the iPhone 4. Oppenheimer put the cost of the case giveaway at $175 million; Apple will recognize the cost of those cases as they're delivered to customers.
Updated at 2:17 p.m. PT to include last year's quarterly sales and profits and Apple's guidance for the fiscal fourth quarter. Updated at 2:35 p.m. PT to include more information on Mac and iPod sales. Updated at 2:49 p.m. PT to include more information on iPhone sales. Updated at 3:02 p.m. PT to include more iPad and Apple Store details. Updated at 3:55 p.m. PT to add quotes from Apple executives.