At a Glance
Expert's Rating
Pros
Easy to install and set up.
Easy to post articles without knowledge of HTML.
Many options for themes and layout.
Users can manage multiple blogs from one dashboard.
Unified updater for software and plug-ins.
Cons
Steep learning curve.
Can be complex to go beyond the basics.
Reliance on plug-ins can lead to incompatibilities.
Some new features are hidden.
HTML knowledge required to customize themes.
Occasional security issues require regular updates.
Our Verdict
Among the many types of CMS software (content management systems or blogging tools), WordPress has become extremely popular, providing easy-to-use installation, configuration and posting, and offering a wealth of themes and plug-ins so bloggers can customize and extend their platforms. The recently released WordPress 3.0 offers some 1,217 bug fixes and feature enhancements.
Configuration and installation are relatively streamlined, but you will need to make some changes to a file that contains information about your database, user name, and so on. Once this is done, and WordPress creates its database tables, almost everything else you do is through a graphical interface in a Web browser.
Creating posts is easy too. You don't need to know any HTML code, because WordPress's post editor lets you click to add links, images, videos, and more. You can set categories for posts, add tags (for a tag cloud), save drafts, and auto-saves protect you when your browser crashes or when you lose your Internet connection. However, in some cases, you may want to go beyond the basic HTML available from the post editor, and add your own code, if you know how.
Complex sites
The new version 3 adds a number of useful features that allow you to create more complex sites. For example, a new menus feature lets you create navigation bars, below your header, that provide access to different parts of your sites. This feature, like most of WordPress's Appearance settings, is controlled by simple drag-and-drop, making it accessible to users with no knowledge of HTML.
A header section in the Appearance settings lets you change the image used as the header for your theme, if your theme allows this (as the default Twenty Ten theme does).
While WordPress allows you to create both posts and static pages, version 3 adds the ability to create custom post types. This makes WordPress much more than just a blogging tool, and gives more advanced users the ability to roll out sites with a wide range of content, such as product pages, user profiles, and more. This lets developers tweak their themes for different types of pages; you can even have different themes for different post authors.
A Get Short Link button allows you to find the core WordPress link for an article to use on, say, Twitter or other services where message lengths are limited. This link ends with /?p=123, for example, and, even if your blog uses permalinks with post title words, will resolve correctly.
WordPress 3 also adds the ability to set up multiple sites and manage them from a single dashboard. While most users won't need this, it can be valuable for those setting up very complex sites, or who want to manage multiple blogs (even with different domains) from one dashboard. However, this is a sort of hidden feature; to activate it, you must add some code to your config.php file. If you're not aware of this feature, nothing in the Dashboard will tell you it exists.
Plug-in power
When the default features aren't enough, you can install plug-ins to add a number of additional features. One such plug-in, included with WordPress, is the Akismet comment spam filter. As I look at my main Website, I see that Akismet has blocked more than 18,000 spam comments since I started using WordPress. Other plug-ins offer features such as better searching, search engine optimization tools, statistics, user management, and much more. WordPress recently announced that there had been more than 100 million downloads of the 10,000 available plug-ins.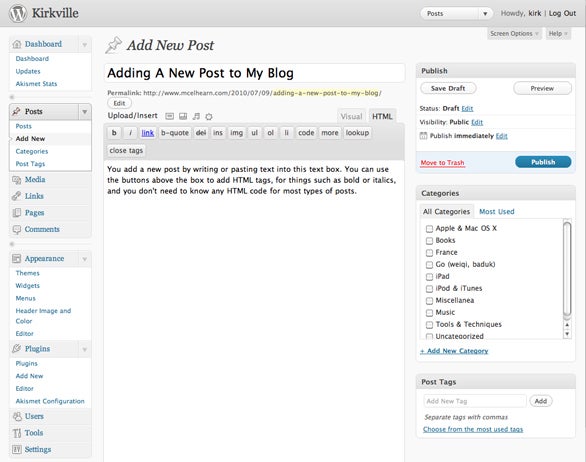 Of course, this profusion of plug-ins has a price. Plug-ins may lead to incompatibilities, and it can be risky to update your WordPress installation until you are sure that all your plug-ins work. If you depend on any of them, and need to deactivate them for compatibility issues, then you'll lose functionality.
Since these plug-ins are all freeware (some request donations), you cannot be sure how quickly developers will update them, if they do, indeed, maintain them. With version 3.0, however, there is a unified update page so you can update all your plug-ins and your WordPress installation at the same time. This is a valuable addition, since updates can be frequent, both to the WordPress software, and to plug-ins. While the update is occurring, WordPress sets up a maintenance page so users don't get 404 (not found) errors if they happen to visit your site during this process. (If you already use WordPress and have wondered why auto-update doesn't work for you, see this article.)
One other issue to be aware of is the number of security threats that affect WordPress. Whether because of its popularity or simply because of the way it's designed, there are regular security updates to the software, and it behooves anyone running a Website to update whenever new versions are released. While the update process itself is not very time-consuming, it is strongly recommended to back up your database and all your files before updating, so you may spend a fair amount of time preparing for updates.
Macworld's buying advice
WordPress remains an easy-to-use blogging platform for those who don't know any HTML code, and version three adds a number of features that enhance the program and allow users to create more complex sites with little work. If you do code, then you can do much more, not only in your theme and widgets, but also in your posts. While the dependence on third-party plug-ins can make the platform seem a bit fragmented, if your needs are limited, you should be able to do what you want with little additional software.
[Senior contributor Kirk McElhearn writes about more than just Macs on his blog Kirkville, which runs on WordPress, as do several other blogs that he manages.]