Editor's note: The following review is part of Macworld's GemFest 2010 series. Every day from mid July through August, the Macworld staff will use the Mac Gems blog to briefly cover a favorite free or low-cost program. Visit the Mac Gems homepage for a list of past Mac Gems.
Cashculator is a clever personal finance application that works a little differently than most of the other personal finance apps you may have used. Rather than focusing on the past (i.e., what you've spent), Cashculator tries to help you forecast how much money you'll have in the future.
As a result, Cashculator may seem a little odd at first. There are no tools for importing your banking statements and the program doesn't require you to meticulously enter every single financial transaction you make. But it does help you make sense of what matters; whether you're spending more money than your making.
To use Cashculator, you enter your known income (such as salaries and interest income) as well as budgeted items for fixed expenses like your expected monthly grocery expenses, mortgage, rent, or utility payments. At the end of the month, or as you go along, you tally up everything you've spent and provide the total balance from your banking statements and what you end up with is a tally of your current income with a projection of your future cash balances.
Cashculator also lets you create different scenarios so you can see how much money you'll save or spend given new sources of income or different expenses, which you can then use to compare against your current financial situation.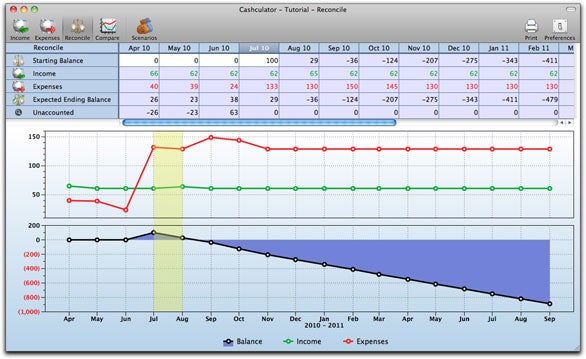 While you don't technically have to track and categorize every transaction you make, the concept that using Cashculator means you don't have to enter transaction data is more conceit than reality. This is largely because bank statements don't typically display your expenditures in neatly organized categories at the end of each month. So you will have to add and enter the total amount of money you spend in each category every month.
Cashculator offers a interesting, different, and most importantly, useful twist on personal finance applications, giving you better insight into your spending patterns and a fuller grasp of your future financial well-being.
Want to stay up-to-date with the latest Gems? Sign up for the Mac Gems newsletter for a weekly e-mail summary of Gems reviews sent directly to your inbox. You can also follow MacGems on Twitter.
Our 186-page Mac Gems Superguide is a veritable greatest hits of Mac Gems. It's available as a PDF download, PDF on CD-ROM, or as a printed book. Learn more about the Mac Gems Superguide.
[Jeffery Battersby is an IT Consultant, Apple Trainer, (very) smalltime actor, and regular contributor to Macworld. He writes about Macs and more at his blog.]