"DJing" is an odd concept; it's meant different things at different times to different people. In tools like Ableton Live ( ) and Traktor Pro, DJing can become a kind of live remix or even live production (scratching turntables is taught as an instrument at the Berklee College of Music). But DJing has become so accessible that a growing number of people find themselves having to assemble a music mix on the fly, whether they DJ professionally or just need to fill in house music or play a party.
Algoriddim djay manages to serve not only professional DJs, but those casual users, as well. For beginners, new features make faking a terrific DJ set easier than before. But Djay 3 offers some serious features, too, which make it more appealing to advanced users and simultaneously more fun for newcomers.
Engage autopilot
Djay 3 includes a number of subtle user interface tweaks, but the most significant change is a set of enhancements to its automatic operation. For all the tricks here, these won't necessarily make you into a good DJ; many still require some skill to operate. But they can be handy when you're relatively new to DJing or need unattended mixes.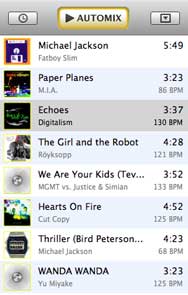 The biggest godsend is Automix mode, which now features queuing functionality. Drop tracks you want played into the queue, and djay will more or less operate itself, matching beats and automatically adding transitions. (You can either choose a transition you want, like a simple crossfade, or let it choose at random from a set of presets, including various special effects.) This means you can quickly add requests to a queue, and, provided those selections make sense, you can be sure those tracks will fit well into your mix. If you ever need a tool for an occasional, unattended music mix, you might buy Djay for this feature alone. The results are spookily good, especially if you set in and out points in advance, enough so that you might find yourself listening to Djay instead of iTunes ( ) at home.
New beat-matched looping is similarly well-implemented. Choose a beat length, and djay automatically chops the active record into a beat-matched loop, even providing visual feedback by outlining an arc in blue on the graphical display of the record.
Djay 3 also adds a new auto-gain feature that matches volume levels. In my tests, this works as advertised—more so with the material I threw at it than the similar Sound Check feature in iTunes. For weddings and parties, it's worth noting that djay has some powerful playlist features. Checkmarks note which tracks you've already played, and histories are exportable.
There's also a new Auto-Cut Scratching feature, which attempts to automatically match scratching to beats, even operating the crossfader for you. I had more difficulty with this feature, though. Automix and auto-cut scratching don't work together, for one; because auto-cut scratching moves the crossfader, it will frustratingly cause Automix to replace the active record on the deck. The scratching effect sounds decent enough, but it can't substitute for genuine musicality when scratching, and the results can sound overly mechanical. In other words, for occasional use, auto-cut scratching is fine, but it's unlikely to be useful with any regularity.
As with previous versions of the program, though, Djay is a clear winner for providing easy access to iTunes songs and playlists in a friendly, Mac-like interface.
Effects and MIDI
Even as Djay focuses on ease of use, the program doesn't shirk on power user features, especially impressive given its bargain-basement pricing. Previous versions added automatic hardware control with popular devices from M-Audio and Vestax, mic and headphone cue features, and audio sampling. You can record mixes, and even transmit them over a network to other users via Bonjour.
New in Djay 3, you can use any MIDI controller, not just those with native support. It's a powerful feature, though setup is a bit tedious, compared to the devices supported out of the box. Djay automatically recognizes connected MIDI interfaces, and using MIDI learn (a hardware-software setup), you can select which faders or other MIDI controls you want to assign. The assignment itself, though, requires selecting options via drop-down menus; it'd be preferable to be able to assign directly from the Djay interface. Once the work is done, at least, it's worth it; even with support for features like trackpad multi-touch, real hardware is vastly more enjoyable to use. You can also use the new Djay iPhone/iPod remote application, albeit minus tactile feedback.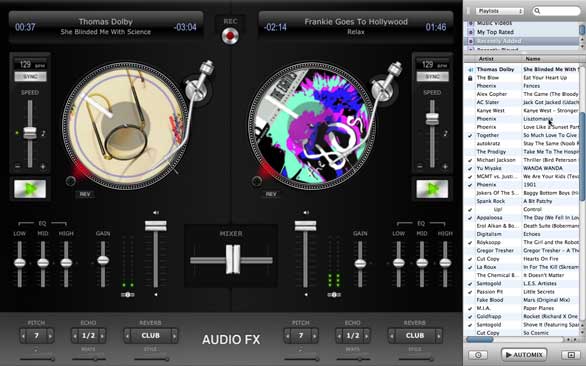 Djay 3 adds new internal audio effects for processing your mix. Re-pitch and echo are a lot of fun to use, though the reverb's quality is a bit lacking. You can also use external AU audio effects, including a few excellent effects that ship with the Mac OS, like Apple's great-sounding reverb. Third-party AU effects should theoretically work, as well, with some caveats. You won't have access to their graphical user interfaces, only to generic sets of faders for their parameters. For that reason, I found that some items in my own plug-in library did not work as expected.
Macworld's buying advice
Djay 3.1.1 has a few rough edges with all of its ambitious additions; Auto-Cut Scratching is a mixed bag, and MIDI and AU plug-in support could use some refinement. But as an "iTunes Pro," djay is stronger than ever. Automix queuing and auto-gain alone could make it a must-buy, and having custom MIDI support, beat-matched looping, and additional effects mean it's still more versatile. It's the DJ app missing from iLife, but also a tool many serious musicians and DJs might add to their Mac for situations that call for features like quick, automatic mixes or network streaming. At a time when these sorts of tools gravitate to the iPad, it's also still a bargain on the Mac—and with your Mac's superior storage and file management features. Just be forewarned: even if you've never DJed before, you might get addicted.
[Peter Kirn is a composer, producer, and educator, and runs the site Create Digital Music .]