Aqueduct has all the ingredients necessary to make an addictive game. It's relatively simple, the goal is easily defined, and each level is trickier than the last. Plus, Aqueduct is all about plumbing—an important ingredient to any game's success.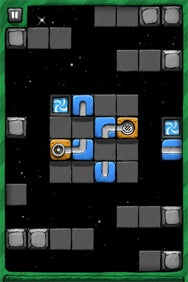 Aqueduct is a single-player puzzle game developed by Kieffer Bros. that tasks the user with connecting a faucet to a drain by using a series of pipes. These pipes must be strategically dragged into place and over the course of the game, more obstacles stand in the way of this goal.
As new levels are reached, new challenges are added. For instance, the first several rounds of Aqueduct offer only slight inconveniences such to the game play. In fact, during these early stages the only thing keeping the pipes from their destination is the array of unmovable stones blocking their path. Quickly, you learn that these are only minor difficulties—they are to be dealt with in the same way an ant simply moves around any obstacle in its way. However, after the introductory levels, problems such as conveyor belts that move the pieces to a specific spot (whether it's convenient or not) start to arise. Additional gates, bridges, and warp portals all contribute to the player discovering the need to think outside the box and plan ahead in order to complete the simple task of creating a fully functioning aqueduct.
Visually, Aqueduct is meditative, which provides the perfect setting for a mind puzzle. A green border encloses a black background that is dusted with stars. In terms of graphics, the game is simple, which, to be honest, suits it just fine. There's usually no movement on the screen (with the exception, of course, of the pipe segments I masterfully drag into place).
Like any puzzle for the brain, I came across several levels that got me stuck. After a quick break, I came back with fresh eyes and finished, but Aqueduct can be frustrating in that it's impossible to move on to a new level until the one at hand is completed. This is easily the only negative aspect I have to report which is, unfortunately, more a testament of my ability to construct Aqueducts than any shortcoming of the game itself. Granted, the game is a lot of trial and error, but it's enjoyable in its simplicity, and there are enough levels of pipe assembling (over 100!) to pass the time for a long while.
[Stephanie Kent is an editorial intern for Macworld.]