The Korg iElectribe-R is a classic analog beat machine used by many dance music aficionados for more than a decade. This compact piece of equipment gave users the ability to create and tweak beats with ease. Now Korg has released the beloved iElectribe as a virtual machine for the iPad, leaving its hardware roots behind for a whole new level of portability.
Users of the original hardware will find the iPad version to be a faithful reproduction. The only thing different is the price. The original iElectribe would set you back around $300, while the iPad app is a mere $10 through the end of July.
The Korg iElectribe can look a bit intimidating if you've never used a drum machine or rhythm synthesizer before, but the app comes with some great user tutorials and info to get you up to speed. iElectribe comes packed with 64 preset patterns ranging in genre from house to break beat and hip hop. Of course, you can create your own custom sounds and beats as well.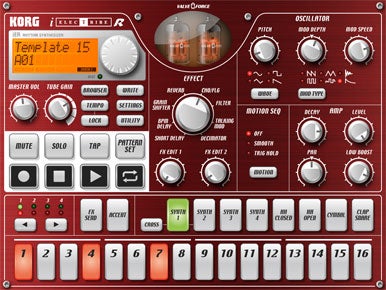 You've got eight synth pads to use for building a beat. These consist of a few drum and bass sounds, some cymbals, and a clap sound to work with. Eight sounds may not seem like much, but you can actually get a lot more than that using the different effects, amp settings, and pitch controls.
There are eight different effects for you to use—Short Delay, BPM Delay, Grain Shifter, Reverb, Cho/Flg, Filter, Talking Mod and Decimator. Below the effects selection, two Effects Edit knobs let you further tweak these effects, allowing for even more sound possibilities. Combine that with the Oscillator options for adjusting pitch, mod depth and mod speed, mod type, wave selection and the amp settings for decay, level, pan and low boost, and you have near endless sound possibilities. You can only use one effect per pattern, though, which is unfortunate. It would be nice to be able to use a different effect for each instrument or pad, as this would create even more possibilities.
Patterns can be up to 64 beats long and have a BPM (beats per minute) of anywhere between 20 and 300. To build up a beat, you can tap the synth pads while recording or use the 16-step sequencer. You can also record adjustments to the pitch and other settings in real-time, so when you play back your pattern, you'll actually see the knobs moving just like you recorded.
The final sound runs through virtual tubes giving it a little more warmth. Patterns can be exported to your computer as high quality .wav files for latter use with other programs.
Korg iElectribe is an awesome virtual synth machine that comes loaded with features. You can even customize the look of the app by changing the background image. The sound quality produced by the app is top-notch when you run out to some nice speakers. There's a learning curve for getting the most out of iElectribe, but the included documentation really helps with that. It's just all around a solid app at a great price.
[Tim Mercer is a technology enthusiast, graphic designer, and blogger, whose blog, digital-artist-toolbox.com, offers free resources to the digital artist and graphic designer.]