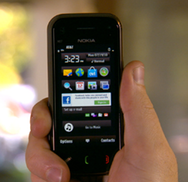 Apple quietly took a shot at another of its smartphone rivals when late Tuesday it added a demonstration of antenna attenuation on the Nokia N97 mini to its antenna performance page.
Nokia may have thought it had gotten away scott free from Apple's press conference last week, in which CEO Steve Jobs showed the attentuation effects on competing smartphones from RIM, HTC, and Samsung. But the Finnish-based company released a statement anyway, saying in part:
Nokia has invested thousands of man hours in studying human behavior, including how people hold their phones for calls, music playing, web browsing and so on. As you would expect from a company focused on connecting people, we prioritize antenna performance over physical design if they are ever in conflict.
While Nokia's statement didn't mention Apple by name, it was clear that it was intended as a defense against Jobs's contention that all phones suffer from this problem. However, as the video on Apple's site shows, Nokia phones are hardly immune to the effect, which appears to be universal. It's unclear, however, how much it affects cell data and voice performance on individual units.
It should also be noted that Nokia and Apple aren't exactly the best of friends at the moment, either. The companies have been involved in a convoluted legal battle over intellectual property since last year. Both companies are currently being investigated by the U.S. International Trade Commission while a Delaware district court case remains suspended until the ITC issues a decision.