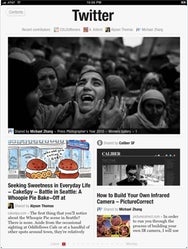 Major publishers have slowly been rolling out their visions of how an analog magazine should look and work in a digital world full of iPads. Flipboard, on the other hand, is a new type of digital publication for the iPad that wants to meld your news and social worlds into a sort of personalized magazine.
Flipboard collects news, Twitter updates, and Facebook posts into a unique, animated magazine-style layout. Some preset news feeds and a Twitter "daily photo" stream introduce you to the concept, and you are prompted to add your Twitter and Facebook credentials so you stay on top of your own social networks and share interesting things you find with your friends.
You can also choose from a handful of built-in news sources like the Wall Street Journal and GigaOM's tech blogs. Flipboard displays sources as tiles on a magazine-like table of contents page. When you tap a source, fluid animations will roll out stories, headlines, and photos across the page to remind you that this is most certainly not your grandparent's magazine.
If you run to try out Flipboard right away Wednesday morning, you should know that quite a lot of buzz is swirling around it, so some features may stutter or hang. This is an unfortunate reality of Web services that get temporarily overwhelmed, but things should settle down soon.
Flipboard is available for free now in the App Store and requires an iPad running iOS 3.2 or later.