There's no shortage of iPhone, iPad, and MacBook protective cases, but keyboards need loving too, even if they often aren't considered portable devices. WaterField Designs has added two protective cases to its line of Mac cases and bags that cater to the keyboard-toting demographic. The Keyboard Slip and the Keyboard Socket are both designed to accommodate the current aluminum wireless keyboards that ship with iMacs, and are meant to be used in conjunction with another bag or backpack.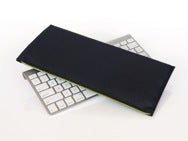 The $29 Keyboard Slip Case is a slim ballistic nylon case with a lightly padded liner. It has a trimmed edge that can be customized with a choice of 6 different colors, and it fits the keyboard so tightly that no zipper or flap is needed to keep the keyboard from accidentally sliding out.
The Keyboard Socket, on the other hand, is a padded pouch made from soft, scratch-free material that should keep your keyboard safe from scratches and bumps in your bag. At $15, the Keyboard Socket should appeal to students or those on a budget.
Both options should not only keep your keyboard safe when you travel, but also ease your keyboard's insecurities about "not being good enough for a case". There, there little buddy—we value your shiny aluminum goodness just as much as we do your more expensive buddies'.