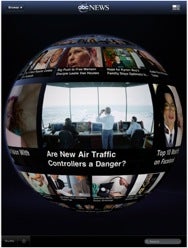 There's a good selection of news apps for the iPad, but the recently released ABC News for iPad has got to be one of the more innovative ones. Eschewing a typical menu of headlines for a giant, interactive globe, ABC has gone to great lengths to give iPad users an engaging news-reading experience.
The app's interface revolves around a large, 3D globe that fills your iPad's screen when you launch it. The globe is covered with images from various news headlines, and you manipulate the globe with the iPad's touch screen to get to the story you want; spin the globe with a swipe of your finger, or shake your iPad to shuffle the articles and videos. When you touch any image on the globe, it takes you to the related story—there you can read the piece or watch a video of the broadcast.
You can filter the globe by selecting your favorite topic or show, save stories to a "My Favorites" folder for offline viewing, and share stories through Facebook, Twitter, or e-mail. If the globe interface doesn't tickle your fancy, you can revert to the standard ABC Web interface. Head over to ABC News to see a video of the app in action.
ABC News for iPad is free and runs on iOS 3.2 or later.