On Wednesday, voice over IP service Skype finally updated its iPhone application with compatibility for iOS 4's multitasking features, including the ability to continue VoIP calls while in other apps.
When Apple first showed off iOS 4—then iPhone OS 4— back in April, it described seven ways apps could work in the background. One of those much anticipated functions was the ability to continue voice over IP (VoIP) calls, such as Skype, even while switching to other apps. The folks from Skype even demoed a version of the app with the feature. But iOS 4's release last month came and went with no sign of an update to the Skype app.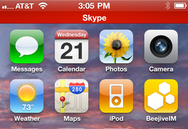 In Skype 2.0.1, if you switch out of Skype while on a call, the phone's status bar will blink red and the app's name will be displayed on the line below. You can tap that bar at any time to be returned to Skype.
Multitasking capability appears to be the only major feature upgrade in version 2.0.1, but it takes several forms. Beyond the ability to continue a Skype call while you're in another application, the app also features iOS 4's fast app switching and supports notifications that allow you to receive calls even when you're not in the Skype app.
Skype 2.0.1 is a free download from the App Store and requires iOS 3.0 or later; if you want to use the multitasking features, you'll need iOS 4.0 running on an iPhone 3GS or iPhone 4.