Reading a paperback on the beach is so twentieth century. Mobile games and e-readers are the wave of the future. On Tuesday, EA Mobile unveiled its summer 2010 lineup. Now you know what games you'll be playing while curled up on a towel and catching some rays.
The Sims 3 Ambitions
Your Sims have dreams, goals, and life aspirations. They want to be chefs or firefighters or evil geniuses—but ultimately, it's up to you to choose what path they take. On Tuesday, EA Mobile previewed The Sims 3: Ambitions for your iPhone or iPod touch. Like the expansion pack released in June for the Mac version of The Sims 3, you'll gain access to new mini-games and new career paths for your Sims. For example, during my hands-on with the game, I was able to guide my Sim to a better career as a chef by having him cook hamburgers.
Sim expansions are notorious for their lack of new gameplay elements and paltry cosmetic content additions. While Sims expansions are often derided as being nothing more than new clothing for your paper dolls, The Sims 3 for the iPhone was already a thin game, so any attempt by EA Mobile to flush out the experience should be welcomed.
Risk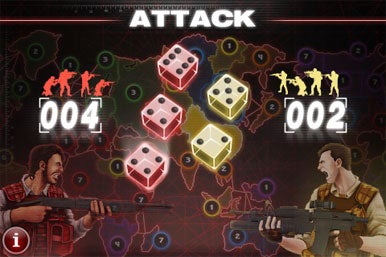 With Risk, you can now conquer the world from the comfort of your mobile device. Following the success of Monopoly on the mobile platform, EA Mobile is trotting out another port of a popular board game.
Risk will allow you to mobilize your armies against AI opponents or up to six multiplayer opponents online. While the game keeps the core strategy elements and rules of the original board game, the colorful graphics, stirring soundtrack, and strong AI should make Risk a distinct experience on the mobile platform.
The AI in particular looks promising— EA Mobile's press release boasts that there are different AI types that incorporate different strategies and even have "emotional responses." Hopefully this doesn't mean your AI opponents will act like your kid brother and simply flip the board over when you starting beating them.
R-Type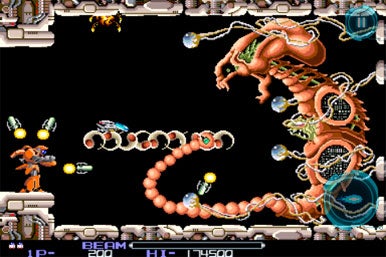 The year was 1987. Michael Jackson's Bad spent six weeks on the Billboard charts, Ronald Reagan was our president, and arcades were full of side-scrolling shooters. Reknown for their difficulty, side scrollers typically cast you as a pilot of a small spacecraft tasked witih defeating seemingly endless waves of baddies, increasingly-large bosses, and eventually saving the galaxy.
R-Type, originally developed by Irem, is getting a full port to the iPhone. The game will feature the original old-school graphics, upgrades, power-ups, levels, bosses, and difficulty. For the dedicated fan of old school gaming, that's great news indeed.
But EA Mobile is also ensuring the game is more approachable to modern audiences. R-Type for the iPhone will have different difficulty modes and three different control schemes. Now you can do something you never did in 1987: actually beat R-Type.
Madden NFL 11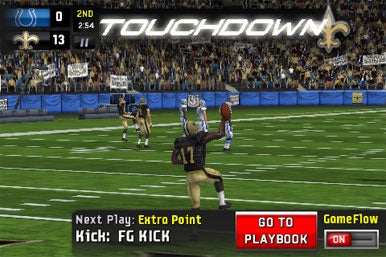 A new year brings with it a new version of Madden, but there's good reason to believe that EA actually spent a lot of time on making this version much better than its predecessor. Madden NFL 10 ( ) was a great game and easily the best football game on the iPhone game last year, but that doesn't mean it didn't have room for improvement. It was too easy to score and hard to defend. Your opponent would throw nine out of ten offensive plays, suggesting the AI was either taken from Mike Leach's brain or had some balance issues.
Madden NFL 11 has a new defensive scheme called Total Defense Control, which will let you pause the action and move your defense how you'd like to maximize its impact. Not only will it be easier to defend, but NFL 11 promises to have a faster pace thanks to the incorporation of the GameFlow feature from the console version. Now you don't have to go back into your playbook to select a play every down.
Due out for the iPhone, iPod touch, and iPad, Madden NFL 11 will once again raise the bar in terms of authenticity. Improved graphics, full rosters, authentic stadiums, four different modes of play, and a robust multiplayer will make this a must-have app for virtually all mobile football fans.
Yahtzee for iPad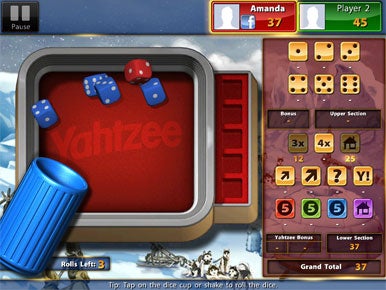 The iPad has hasn't had many games to lord over its iPod and iPhone cousins, but Yahtzee for the iPad may change all that. Featuring bold, big graphics that take advantage of the iPad's larger screen, Yahtzee features all of the classic gameplay elements of the original board game plus much more.
You can play in Rainbow Mode which adds an extra element of color to the game, or play a more strategic game with Duplicate Mode, or maybe just compete against your friends in Battle Mode. You can Play 'n Play with up to four friends, go head-to-head in Duplicate Rainbow Mode and challenge friends via Facebook connect.
SimCity Deluxe
Wait, didn't EA already do a SimCity game for the iPhone? Well, yes, but it didn't exactly set the world ablaze. Wonky controls, indecipherable guidelines, and some nearly-impossible goals made the game a surprisingly frustrating experience.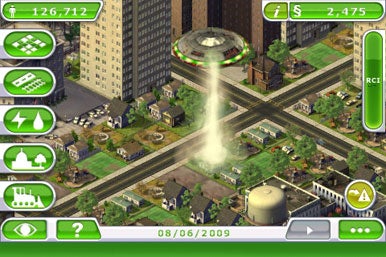 SimCity Deluxe offers an improved UI with larger buttons and more accessible items that will hopefully lead to a smoother, more refined experience. The graphics have gotten a major overhaul as well and the distinct seasons add another layer of realism to an already deep, beautiful game. You also can modify terrain with a touch of your finger—paint water, land and trees with ease.
During my hands-on with the game, the buttons did appear bigger and the game looked more on par with SimCity 4 than SimCity 2000. That said, the controls are still challenging due to the exactness required to lay road and power lines—so you'll still require a great deal of patience when playing SimCity Deluxe.
NCAA Football
EA's first game designed specifically for the iPhone 4, NCAA Football will let you play as your favorite NCAA team in a quest to win glory on the gridiron. EA boasts of the game's ability to maximize the iPhone 4's retina display, ensuring an experience unlike anything you've seen on your mobile device.
NCAA Football features 55 collegiate teams, the ability to create your own school (complete with selecting your own fight song from your iTunes playlist), a season mode that lets you lead your team to a bowl game, head-to-head multiplayer, and real commentary from broadcasters Lee Corso and Kirk Herbstreit.
NCAA Football is currently available through the iTunes App Store for $7.
[Chris Holt is a Macworld associate editor.]