The idea behind location-based social networks has been picking up steam in the past few years. Instead of calling and texting a group of friends to make plans, you can see where people have "checked-in," and make plans accordingly. Foursquare and Gowalla have gotten the bulk of the media attention in this space, though when compared to the size of services like Twitter, these location-based services are still in their infancy.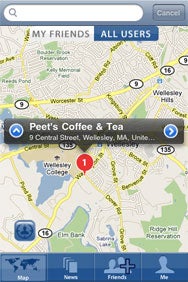 Toodalu.com is a new social network that operates in a very similar fashion to those other social networks. There's a mobile version of Toodalu that runs on your iPhone and iPod touch, and while the app is promising enough, the service it supports is suffering from some growing pains.
The Toodalu app allows you to check-in to locations from your phone; you can also find and view your friends' activity. You'll need to create a Toodalu account first, which you can then link with your Twitter and Facebook accounts. That way, all your "toodals" will be broadcast to your friends and followers.
Toodalu uses your phone's GPS features to search for locations near you; if none are available, you can create your own. Privacy is a hot-button topic surrounding any location-based service these days, and Toodalu nicely allows you to easily toggle who gets to see what information you post.
There's a lot competition in the location-based networking space, so if you can't find other friends on a service, it will quickly lose its value to you. By definition, social networks need plenty of users to hold up the social end of their functionality. I mention this because Toodalu doesn't appear to be up to par with competing services at this point. The app sports a News section, but when you click on it, you're often told: "There's no news now. Please check back later."
In the case of social networks, no news isn't good news. If users keep being told there's nothing new worth checking out, it's unlikely they'll check back again in the future. Perhaps, Toodalu will pick up momentum soon enough, but it just didn't measure up to other services during my tests.
[Macworld Contributor Beau Colburn lives in Boston and posts iPhone photos on his site Snap different.]