NASA Lunar Electric Rover Simulator is a friendly, easy-to-master, free game by NASA. Designed more to educate than entertain, NASA Lunar Electric Rover Simulator makes it look like just about anyone could pilot a rover. Maybe it's time you gave your childhood dream of being an astronaut another try.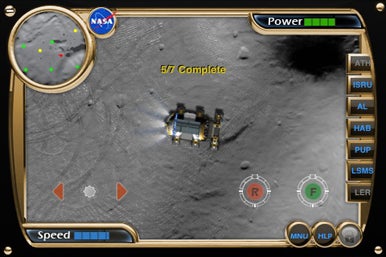 You are a lunar rover on—you guessed it—the moon. Your mission is to visit each of the seven stations and learn about them. Yep, it's an educational game.
There are four controls on the touchscreen—left and right arrows and "R" and "F" buttons (for "reverse" and "forward"). To turn, simply press the left or right arrows until you are facing your desired direction. Then hit "F" to go forward and "R" to go backward. It really is that simple. Be careful of your "Power" level, though (the "Power" bar is in the top right), because you only have so much and each movement uses up some. You'll get more power as you land at each station accurately. You must land at each station facing the correct direction, so this is somewhat of a testament to your ability to drive efficiently.
Male and female voices are at the ready with compliments when you make it into the landing zones ("Are you sure you haven't been to the moon before?") and snarky remarks when you run into equipment ("On the moon you experience one-sixth of the earth's gravity…and apparently even less driving skills").
At each station, you'll unlock a graphic and some information about that station, so you can learn about NASA's doings on the moon.
When you complete all seven stations, you will unlock "Arcade Mode," where you can just drive around to all the stations as fast as possible. There are also three difficulty levels.
The game is very simplistic in its design, but has good graphics and interesting controls. I wouldn't recommend this if you're looking for something to pass the time, but it's free and worth checking out—and who knows, you might even learn something in the process.
[Sarah Jacobsson is a frequent contributor to Macworld.]