Having a remote control for DJ software can be useful: in addition to providing handheld access to your library, effects, mix, and deck controls, it means the freedom to walk around, hear the mix in different locations, or even queue up some songs for your next barbeque party while hanging out with your guests. Algoriddim Djay Remote for iPhone and iPod Touch is a companion application built specifically for Algoriddim's Djay 3 software for the Mac desktop. It provides handheld control of the Mac software over wireless networks on your iPod touch or iPhone. It works only with Djay 3, but that makes sense; there's direct integration of the two.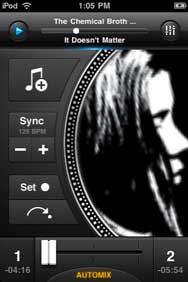 Connection is automatic: connect your iOS handheld to the wifi network on which your Mac is located (or create an ad-hoc network from the Mac), and Djay Remote will automatically discover any running instances of Djay 3. The Djay app on your Mac will ask if you want to provide access; click OK, and you're ready to go. This prevents anyone from hijacking your DJ mix with their iPhone.
The translation of Djay's desktop interface to the handheld is a perfect fit, partly because Djay on the desktop already sports the modern user interface design patterns common on the iPhone and iPad. While some recent iPhone music interfaces cram in lots of features, challenging your fingertips and eyeballs, the Djay Remote application is a model of elegant, friendly design, with attractive, easy-to-tap controls. You have nearly complete control over decks, with options for sync, tempo, and loop points, plus a draggable crossfader. One deck is displayed onscreen at a time; tap numbers 1 or 2 to switch decks. You even get to see the same graphical album art view from the desktop on your handheld display, but need to have iTunes running in order to see album art; otherwise, you'll see only a generic image.
Scratching is surprisingly satisfying, thanks to Apple's precise touch input, and since you can directly drag your finger on the record, it feels more intuitive than using a MacBook touchpad. A few features are missing—reverse, backspin, and forwardspin, for instance—but the Djay designers have gotten most of the functionality you need onto the small screen without the UI feeling cramped.
For additional control, you can open overlays for Djay's mix levels, new beat-matched looping, cue points, skipping, and internal audio effects. Most importantly, you can navigate your desktop iTunes library directly from the Djay Remote interface. Tap the add button, and you see the same consistent user interface you'd use when navigating your iPhone/iPod library, with Playlists, Artists, Albums, and Search—but with the storage capacity of your Mac hard drive. You can add tracks directly to a deck, or add them to an Automix queue. You can edit that queue while it's running, and opt to turn Automix functionality on or off. There's easily enough functionality here that you could run an entire DJ mix from a dancefloor. There's no need to be nervous about dropped wifi connections, either; Djay will continue playing even if it temporarily loses a connection to the device, and reconnecting via Bonjour takes only a couple of seconds.
Djay Remote is an easy purchase to recommend; anyone with a copy of Djay 3 will want it. It might even become the preferred way of queuing up and listening to music at home. But it's also an excellent model of what Mac developers can do to add mobile companions to their desktop apps.
[Peter Kirn is a composer, producer, and educator, and runs the site Create Digital Music .]