"Nothing builds self-esteem and self-confidence like accomplishment," Thomas Carlyle once said. And if that's the case, the folks at Turtle Media have reason to be proud: The developer's $1 Well Said is a nifty creature, an interactive and evolving iPhone version of Bartlett's Familiar Quotations.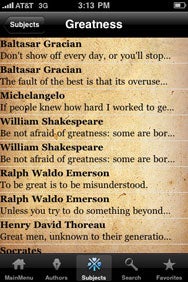 Well Said isn't quite as extensive as the 150-year-old Bartlett's, which features more quotes from more people. In every other way, though, the app outperforms its deadwood competition—easily searched by author and subject, offering the ability to add new quotes from your own reading, and an easy-to-use "favorite" function to mark particularly pithy passages for later use. You can also easily share your favorite quotes through e-mail, Twitter or Facebook. After all, as Lord Byron said, "To have joy one must share it."
The free version of the app, Well Said Lite, contains all these features—but offers a far more limited set of quotes contained to topics starting with the letter "A." It's worth spending the extra buck for the full version.
As Henry Ford said, "Wealth, like happiness, is never attained when sought after directly. It comes as a byproduct of providing a useful service." By that standard, the folks at Turtle Media should be on the road to riches.
[Joel Mathis is a freelance journalist and political columnist for Scripps Howard News Service. He lives in Philadelphia.]