Like most Scott Pilgrim fans, I've already devoured the graphic novel series (and am preparing for a re-reading now that the final volume has come out); I'm eagerly awaiting the Edgar Wright-directed movie, which debuts next month; and am no less interested in the classic side-scroller game that's destined for consoles later this summer. Until such time, however, I will pacify my penchant for Pilgrim by playing Pilgrim's Punch-Out.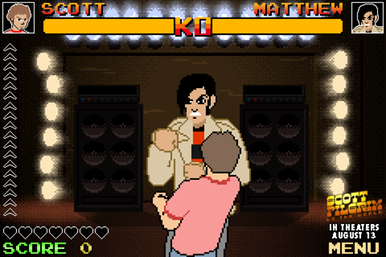 If you've ever played the classic Nintendo game Punch-Out (aka Mike Tyson's Punch-Out), then you'll feel right at home in Pilgrim's Punch-Out. Dropping you in the t-shirt and jeans of slacker hero Scott, you must defeat the seven evil exes of your dream girl, Ramona Flowers, in order to win her heart. One by one, you face off with each ex, punching, dodging, and deploying your super-move when possible.
To punch, you tap the top right corner of the screen; dodging involves tilting the iPhone left or right; you can block both high and low tapping the screen with two fingers (either high or low, naturally); and deploy your super move (a flaming sword) by swiping diagonally across the screen when the power bar on the left-hand side of the screen is at full. I got as far as the first of the twins (Kyle Katayanagi) before I was defeated. Alas, just like the original Punch-Out, there's no saving—when you get beaten, you have to start afresh.
Inside the game, you'll also find info on the movie, such as trailers and a gallery (with content that gets unlocked over time) as well as news updates from Comic-Con 2010.
Pilgrim's Punch-Out is a free download and requires iOS 3.1.3 or later. As a hybrid app, it features versions for both iPhone/iPod touch and the iPad.