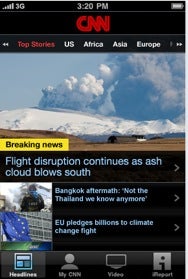 CNN's iPhone app, released last year, was well received by critics and users alike for its immersive interface and vast amounts content. Now, CNN is taking its mobile success overseas, releasing an international version of its iPhone app—and offering it for free.
The international CNN app is similar to the original offering, showcasing important global news through text, video and photos, and featuring push notification, regionalization, and personalization tools. A big difference between the international app and the domestic, however, is price—U.S. customers pay $2 for the CNN app, while customers outside the US can download the international version for free.
The app's features include Latest Headlines, which lets you easily flick through news stories across various world and regional categories; "My CNN" Personalization, which lets you follow stories or topics as they are published, save content for offline viewing, and filter news for your region; and iReport, which connects you to CNN's user-generated news community, where you can browse user-generated content, or upload your own. Stories can be shared through email, Twitter, or Facebook directly from the app.
The international CNN app requires iOS 3.0 or later. Don't expect to find it in the U.S. App Store, though; it's only available for download in other countries.