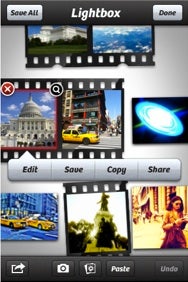 Among the virtual sea of iPhone photography apps, tap tap tap's Camera+ is by far my favorite for its solid effects selection and a lightbox that helps you to organize and share shots. The 1.2 update brings some new features and big improvements to speed and sharing.
Headlining Camera+ 1.2's new features are three the company says are exclusive to Camera+: Touch Exposure, Touch Focus, and Photo Flashlight. The first two features let iPhone 3GS and 4 owners not only tap to adjust exposure or focus, but also tap-and-drag around to continuously adjust these aspects on-the-fly. The first finger that you tap and move with will adjust focus. Keep that finger on your iPhone's display, then tap with a second and you'll see a separate icon that looks like a camera's lens aperture. You can move your fingers around independently to craft just the right exposure and focus.
Photo Flashlight lets you force the iPhone 4's new LED flash to remain on, making it easier to set up certain kinds of shots or simply see what you're doing in low light.
Camera+ has also gained a significant speed improvement with version 1.2—shooting and saving photos feels more responsive, especially with the iPhone 4. Photos uploaded to Flickr will also retain more metadata than previously, including aperture, shutter, and the proper camera label of iPhone 4 for owners of that device.
Tap tap tap also fixed bugs in the photo stabilizer, the camera shutter button, and other areas.
Camera+ is available now in the App Store on sale for $2 instead of the normal $5, and requires an iPhone or iPod touch running iOS 3.1 or later.