Editor's note: The following review is part of Macworld's GemFest 2010 series. Every day from mid July through August, the Macworld staff will use the Mac Gems blog to briefly cover a favorite free or low-cost program. Visit the Mac Gems homepage for a list of past Mac Gems.
Although Witch has long been a Mac Gems favorite, we've haven't officially reviewed it since 2006, when it was a young, version-1.0.2 whippersnapper. This handy utility provides an alternative to Mac OS X's built-in Command+Tab application switcher: Instead of restricting you to just switching between open programs, Witch displays a sorted list of all windows in all applications, letting you quickly switch to—and perform actions on—any of them.
Since that review, besides implementing countless fixes and improvements, Witch has added a slew of notable new features. On the minor-but-useful side, Witch now displays shortcut keys for switching directly to the most-recently used windows, with minimized windows having a different appearance. You can also perform actions—close, quit, hide, minimize, unminimize, reveal in Finder, and more—on windows and programs from within Witch, and you can create a list of programs and windows that never appear in Witch.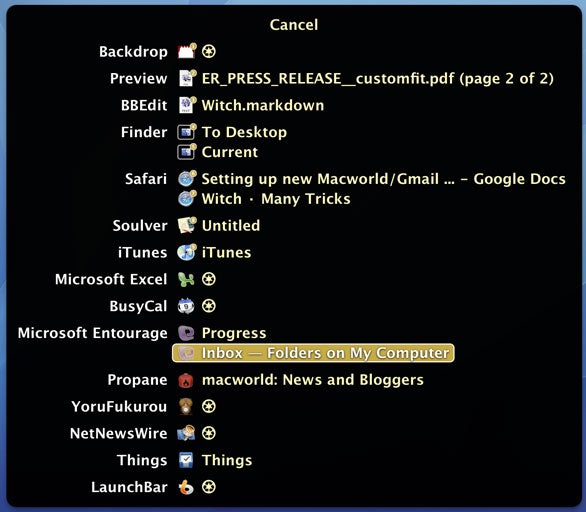 Among the biggest, and most recent, additions are Quick Look previews of windows—so you can tell exactly what a window contains without having to switch to it—and, if you're running Snow Leopard (OS X 10.6), support for OS X's Spaces multiple-workspace system. The latter feature lets you choose whether Witch shows just the windows in the current workspace or all windows. You can also enable "Spaces badges" that, if you're displaying all windows, help you distinguish which windows reside in which workspace.
Witch also now includes more options for keyboard-control and appearance. The number of available settings and tweaks can be a bit overwhelming—I don't even use half of them, and I still occasionally forget about some of the ones I do use—but Witch is easily one of the most useful utilities on my Macs.
Want to stay up to date with the latest Gems? Sign up for the Mac Gems newsletter for a weekly e-mail summary of Gems reviews sent directly to your Inbox.
Our 186-page Mac Gems Superguide is a veritable greatest hits of Mac Gems. It's available as a PDF download, PDF on CD-ROM, or as a printed book. Learn more about the Mac Gems Superguide.
[Dan Frakes is a Macworld senior editor.]