Popplet is a clever mind-mapping, brainstorming, and idea-collection and display app. The $9 iPad app from Notion makes it easy to gather your thoughts and accumulate many groups of ideas in individual "popplets." It also enables you to e-mail popplets in PDF or JPEG format.
Each popplet you create consists of one or more sets of linked "popples," which are rectangles of any size that can include drawings, photos, and text. These elements can be combined in a single popple. You can also choose from among seven border colors for each popple.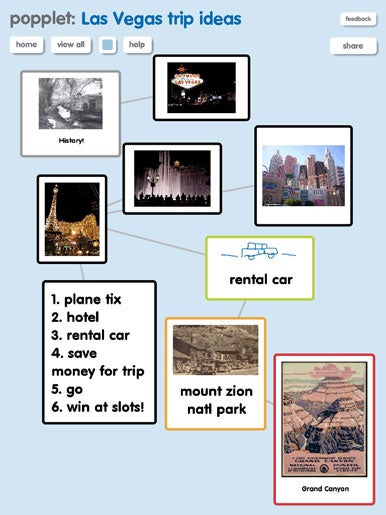 Creating new popples connected to existing ones is simple and intuitive—you just drag a small circular bubble away from the current popple and up pops a new one. While links (simple lines connecting popples) are automatically created, a single tap on a line brings up a circular "x" that enables you to delete the line. Any popplet can include an unlimited number of popples.
The icons for the tools are clear and easy to understand; you may never need to read the developer's Help popplet. Zooming in and out and scrolling using familiar iPad gestures is flawless and smooth. Each popplet board is seemingly infinite; if there's a size limit, it's not easy to reach. And to title (or re-title) any popplet, all you do is tap and type.
The flip side of this simplicity, however, is limited options. For example, the text tool allows for only minimal formatting choices. There's one font for entering text, its color is black, and your font size can be either small, medium, or large. While Popplet backgrounds can be any of seven colors, individual popples are rectangles—not circles or triangles or free-form—and the background for each popple is white.
The app lacks some features common to many mind-mapping programs, such as the ability to create hierarchies, pop-up notes, and links to Web pages or other documents.
But these limitations may add to Popplet's power. Both the app's attractive interface and ease of use make it hard to resist creating new popplets whenever an idea strikes, because it's fun.
The Web-based version of Popplet, currently in beta, suggests many possibilities for additional mobile features. For example, Web-based popplets can contain links, and text, images, maps, and video can be easily imported from other sites. The addition of any of these capabilities, especially when multitasking comes to the iPad this fall with the iOS 4 update, would add a lot of value to what's currently a very elegant app with some limitations.
[Jeff Merron is a freelance writer and editor living in North Carolina.]