At a Glance
Expert's Rating
Pros
Allows integration of animated 3D characters along with gigabytes of 3D content.
Fast, easy results, without much 3D knowledge of lighting, modeling, or rendering.
Cons
Model manipulation workflow is not easy.
Animation and control over motions is odd at times.
Unintuitive workflow might present problems to new users.
Our Verdict
Poser has been part of the 3D landscape for many years. It's often been used by 2D illustrators and hobbyists seeking to add a bit of 3D to their artwork. More recently, the program's technical advancements have made it attractive not only to casual artists looking to harness its power, but to professionals as well. Poser Pro 2010 offers a higher level of functionality than its predecessors ( ) via an enhanced user interface, an easily searchable content management system, and other pro-level features.
I've used Poser for years, not so much for complete projects, but for building animations in other programs, such as NewTek's LightWave 3D. The included content in Poser has always been one of its biggest assets, and now even more so with Poser Pro, which includes additional figures and 1GB of new content above and beyond the previous version.
What's the difference between Poser Pro and the standard version? Poser Pro is a lot more robust and offers more features than any previous version. There are many new tools, such as network rendering so you can use the processing power of additional computers, and background rendering that saves time. Poser Pro also allows the use of HDR (high dynamic range) images, offering global illumination for the ultimate in realistic renders. And, Poser Pro 2010 introduces the Fusion plug-in, which lets users export models from Poser Pro to applications such as Maxon's Cinema4D, Autodesk's Maya and 3ds Max, and soon, NewTek's LightWave 10.
While the interface of this new version strongly resembles the previous version, it offers a host of updated features including Facebook image support, full body morph import, a new joint strength indicator, multiple views in the library area, and more. This version is also 64-bit native.
When Poser Pro 2010 launches, you are presented with an array of tabbed sections, panels of tools, and an impressive 3D workspace (see Figure 1).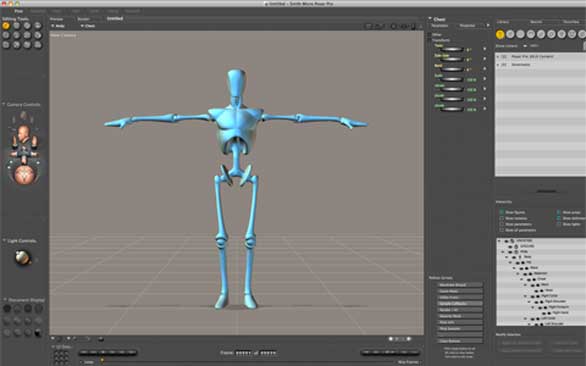 To get a feel for how Poser Pro works, you can quickly click and drag on the limbs of the 3D mannequin. This is the default character model, but it's simple to change or add to it—once you know how. What's more, you can simply load preset poses to your model. Figure 2 shows the model switched out in favor of a different one via the Library tab, and with a pose applied with a click of the mouse from the Pose tab. Figure 3 shows a full render, done by clicking the camera icon at the top of the display.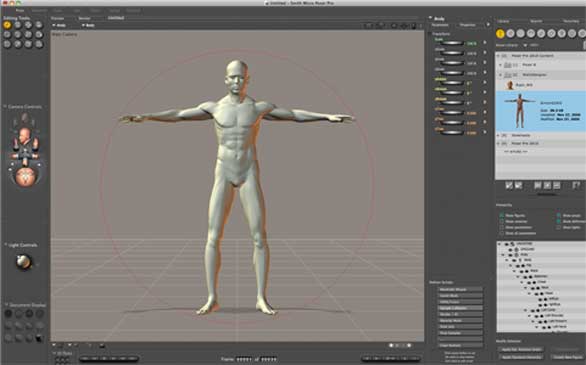 Poser Pro 2010 is complex: It offers not only an extensive library of models that work well in other 3D programs, but a solid image and animation creation program. Moreover, Poser Pro 2010 renders excellent hair and cloth, something that's eluded many other 3D applications. Poser Pro's Face tab helps you go beyond the stiff, commonplace textures, providing a simple and effective way to add image maps of faces to your models, while maintaining morph positions for animation.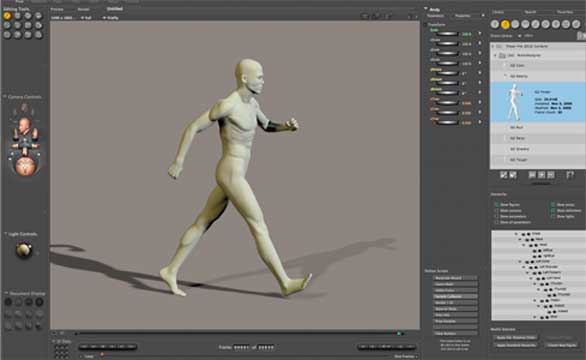 Macworld's buying advice
If you're a 2D illustrator looking to enhance your imagery and create unique 3D renders quickly, Poser Pro 2010 is the answer. If you're a 3D artist tired of the traditional process of modeling, rigging, and animation of characters, Poser Pro 2010 can save you frustration by using a pre-built inverse kinematics system, with a wide collection of well-made 3D models. At the reasonable price of $499, adding this program to your arsenal of tools is a no-brainer.
[Dan Ablan is president of AGA Digital Studios in the Chicago area. He has written 13 books on 3D animation, digital photography, and Photoshop. He also operates a photography studio and is the founder of 3D Garage.com , an online training resource.]