Customers who had already bought iPhone Bumpers before Apple offered free cases to all iPhone 4 users have started to receive refunds from the company.
At last week's iPhone 4 press conference, Apple said it would provide free cases to anyone who buys the iPhone 4 before September 30. That free case offer includes a choice of either Apple's Bumper or a third-party case. As part of that offer, Apple said it would offer refunds to iPhone 4 users who had already bought Bumpers from Apple.
On Thursday, some customers who bought their Bumpers from Apple's online store reported receiving refund notices from Apple, according to both Internet reports and users contacting Macworld. The message from Apple begins by informing the customer of the situation (just in case they have been living under a rock for the past week), and that "as of today, we have automatically processed your refund." Apple is also refunding shipping and VAT charges as well.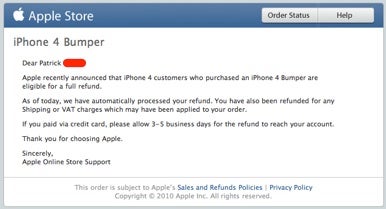 There is no word on how many customers have gotten refunds so far or how long this automatic refund process for online Bumper orders will take. Apple also has yet to announce how customers who purchased Bumpers in retail stores can go about getting a refund, and the company did not return Macworld's request for a comment on Thursday.
Apple made the free case offer for iPhone 4 users after complaints that the new phone's antenna. Some users—a small fraction, according to Apple—reported problems with antenna interference. The most common complaint involves the reception bars disappearing from the iPhone's status bar when users hold the device a certain way, with their fingers covering the phone's antennas.
The iPhone's antenna issue has gotten extensive coverage, but it hasn't shown much of an impact on sales. Earlier this week, Apple said it had sold 1.7 million iPhone 4s in the first three days after releasing the phone—the most successful product launch in the company's history.
At last week's press conference, Apple said iPhone 4 owners would be able to apply for a new case at its Website starting at some point this week. As of late Thursday, Apple's site had not yet been update with new information on how to order a case.
16GB iPhone 4 (GSM, AT&T)
Price When Reviewed:
$485
32GB iPhone 4 (GSM, AT&T)
Price When Reviewed:
$599