To paraphrase Mark Twain (perhaps a little clumsily), the sleeve makes the iPad—it gives it that unique feel that turns it from a tablet into your tablet. It is, therefore, no surprise that more and more models of sleeves, covers, stands, and just about any kind of device that can protect, prop up or decorate an iPad hit retail shelves every day.
We've already gathered up iPad cases for you three times (here are the first and second one), but it's been nearly four months since our staff last took a look at what the market has to offer iPad owners who want to keep scratches and fingerprints off their magical devices, which means that it's time for another one of Macworld's trademark iPad Case Roundups. Sit back and relax, because the market has been positively invaded by cases since last April.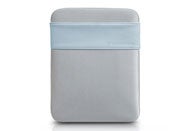 Marware: The accessory heavyweight has both the slick-looking SportFolio Bandit ($35), a neoprene sleeve that features an accessory pouch and comes in one of three spiffy color combinations, and the quirkier Eco-Envi ($50), which looks a bit like an oversize envelope and is made out of environmentally-friendly "eco-leather." The latter has a spiffier cousin, called Eco-Envi + ($70), which includes a transparent shell to protect your iPad when it's out of the sleeve. If thin is your thing, the company also offers the Microshell ($40), which is built in polycarbonate and available in one of three different colors, and the SportShell Convertible ($60), which combines hard shell, stand, and photoframe in a single package that also includes a hand strap for a more secure hold. This last feature is also shared by the SportGrip Pro ($40), which doesn't have as many bells and whistles but includes a dual-layer construction for maximum protection.
Speck: The iPad's screen may be oleophobic, but, if it doesn't seem to be sufficiently afraid of your skin oils, you can always use a ShieldView protector film, which the company says clings without bubbles or peeling corners and can even be repositioned. It comes in packs of two (including a cleaning cloth) for $25.
Acme Made: The San Francisco-based accessory maker offers both the ultra-thin Skinny Sleeve ($30), built out of stretchable, water resistant neoprene and the Slick Case ($40), a more spacious case that also features an accessory pocket. Both come in either white or black.
New PC Gadgets: If Apple's security code mechanism is not quite enough, the Security Case ($45) features a combination lock and a built-in microfiber cleaning cloth; it can even be set up as a stand-and, of course, it's made of stylish black leather.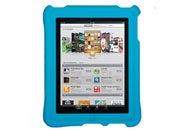 Hard Candy: The Squish Skin, which will set you back $40 and comes in six different colors from Hamster Blue to clear, is built, as its name suggests, to be squished and bumped around without ill effect—its air-filled chambers will take the hit so your iPad doesn't have to. If stands are what you're looking for, Hard Candy's Kickstand ($60) is a hardshell cover whose two hidden supports flip out to allow you to prop up your device at an optimal viewing angle.
Incipio: One of the drawbacks of installing a cover is that it adds both bulk and weight to your iPad. Incipio must have taken notice, because its Feather Ultralight case ($35) is only 1mm thick. Built using a light, ultra-strong polymer, the Feather comes in a matte-finish black and deliver protection without bulk.
Slappa: built for durability and style, Slappa's iPad sleeves ($25) combine features like "super-cush" padding and industrial-strength zippers with a textured, water-repellant vinyl outer shell. For more rugged usage, the HardBody Case M.X. ($40) takes advantage of the company's proprietary Duro-Shock xEVA material's strength and flexibility to deliver superior protection.
Louis Vuitton: Fashionistas rejoice! The venerable French purveyor of haute couture has announced that it will produce two iPad sleeves in 2011. Of course, they'll set you back around $365, so you may want to hope that the form factor of the iPad will not change for many years to come, and that the sleeve comes with an armed guard.
Loopbag: The Transit iPad cases are not inexpensive—they retail for $121—but they are so much more than just a case: they've got pockets! They've got handles! They've got straps! Oh, and they come in three different color combinations—plus, they'll also fit any laptop up to 12.1 inches in size.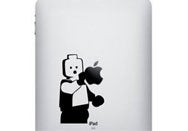 Handmade Spark: This company offers a wire range of hand-made cases for your iPad, from the $22 Techee Yellow Wave sleeve all the way up to a rugged messenger bag, which will also fit netbooks and costs $90. Notable among the company offerings: a Lego-inspired decal for the iPad's back ($8).
Karvt: For a natural look, nothing is better than Karvt's wooden—yes, wooden—iPad back covers. Built entirely of natural materials, these cases give your device an organic look and come in two series: Originals (nine models, $30 each) and Limited (7 models, $40 each).
More-Thing: If making a fashion statement without breaking the bank is your goal, More-Thing has got your covered, with pouches like the Safara Collection ($23-$80 each), which sports models built of either reversible neoprene or leather in wilderness-inspired themes, the Para Collection ($27), a set of glossy, sturdy hydrocarbon polymer cases in seven vivid colors, and the Classic Collection ($55), which features two leather models in a classic design and also includes a free screen protector. For an even bolder look, the Shocking Series, which includes four models in vibrant colors, each of which can be had for $50, including a screen protector.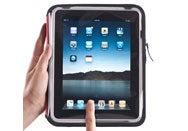 M-Edge: The Executive Jacket, which is available in six different colors, will set you back $50 (synthetic leather) or $60 (real leather) and is only one of the many cases that M-Edge offers for the iPad. The Flip Jacket, which goes for $50, and the similarly-constructed Trip Jacket, which costs between $50 and $55 depending on the model, combine durable construction using ScotchGuard-treated canvas on the outside with the protection of a microfiber interior to deliver both form and substance. For those looking for more storage space, the Latitude and Leisure jackets (both $50) feature zippered accessory compartments. The latter also sports a transparent vinyl cover that lets you view the iPad's screen without exposing its screen to the elements (and to your fingers). The Touring Sleeve ($40), made of lightweight but sturdy neoprene, rounds up M-Edge's offerings for Apple's tablet.
SGP: If you're looking for a truly organic, rugged look, SGP's Vintage Edition leather case is for you. Made by made using full-grain leather without any magnetic fasteners or stitching, this $73 case is compatible with wireless networks and will go well in both casual and formal settings. SGP has also introduced two "Anti Fingerprint" full-body protectors in both high-gloss and matte finishes ($34 each).
OtterBox: The Commuter Series case ($65) provides protection while leaving all the important bits of your iPad, like the buttons (and Apple logo at the back, of course), easily accessible and in full view. More importantly, it is one of very few protective accessories designed to coexist peacefully with Apple's own Dock: a small panel that snaps off the back of the case means that you will never have to get your iPad "naked" when you want to connect it to your computer. If your needs are a bit more on the sturdy side, the company also makes the Defender Series case, which for $90 gives you three layers of "hardcore protection," a built-in stand and a silicone bottom grip to keep both device and case steady in one place.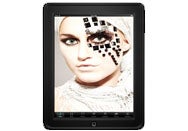 IvySkin: The Xylo-T4 ($40) is a hard polycarbonate case that covers your entire iPad without compromising your ability to interact with your screen-a concept that its cousin Quattro-T5 ($70) kicks up a notch with its all-glass front. IvySkin also offers an Extended Battery SmartCase with Click-Stand ($100), which, as its name suggests, combines the protection of a case, the convenience of a stand and a built-in battery that extends the time between charges of your iPad by 200 percent.
I-nique: The Tuff-Luv series produced by this U.K.-based company include the Veggie case, which features a pull-tab to help extract the iPad more quickly and is available in black for £20, as well as the Multi-view (£40) and Bi-Axis (£44) stand and case combos, which are built out of sturdy leather and allow you to prop your device in a multitude of different positions—the latter in both portrait and landscape mode.
Grantwood: The SimpleSleeve ($30) is a simple and functional sleeve for your iPad. Made of durable but soft neoprene, it makes up its lack of extras with elegance and looks.
For Pilots Only: Despite its excellent geolocation capabilities, large screen and great performance, the iPad is not yet FAA-approved for aviation use. Nonetheless, if you are a private pilot and want to take advantage of one of the many GA apps available for iOS, the NewTech Board iPro ($150) combines an old-school kneeboard with a case for your favorite tablet-perfect for consulting sectionals or IFR maps without playing the folding game that pilots love so much… not.
NinjaGrips: This company's rubber friction grips ($15 each) are built out of recycled materials and add both style and form to the back of your iPad.
Capdase: If you're looking for a screen protector, Capdase has a wide-ranging selection of ScreenGuard covers that includes classic see-through films alongside some more unique reflective models in silver, gold and red. The company also makes PrivacyGuard films, which, as their name implies, protect your screen from unwanted attention by blocking the view beyond a certain angle. If you're looking for a case, Capdase also produces the ProKeeper, a sleeve made of breathable materials and available in five colors, and the Smart Pocket, a hard case made of faux-leather with a soft, velvety inside to protect your iPad from scratches. (Capdase prices were unavailable at press time.)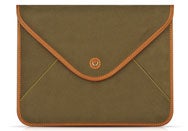 BeyzaCases: The Thinvelope (€130) is a suede-and-canvas sleeve that comes in nine color combinations and looks exactly like a classy envelope—if nothing else, it will underscore the thinness and class of your iPad.
Nedrelow: Sleeves don't get much simpler than those created by this company—in fact, they are just called "Sleeve." Their simple design and German wool materials, available in safety orange, charcoal and oatmeal, will set you back just $20 while providing a snug fit for your device.
Javoedge: The Poppy Axis case series features four models, all priced at $40 on company's Amazon store, in various floral motives. The front cover of these cases can be flipped around and used to prop up the iPad in an arbitrary number of position thanks to its rubber straps. The Kyoto Sleeve ($36), which also features a vintage floral pattern, is a simple model that won't double as a stand. Both series are made entirely with animal-friendly materials. Finally, the company also offers the Fiber Sleeve ($36), which features a classy black dimpled exterior and protects your iPad with its soft-fabric interior.
Vaja: The Leather Agenda 2 ($220) is the Ferrari of leather cases, built with high-quality full-grain cowhide and capable of acting as a stand to prop up your iPad in either landscape or portrait mode.
XGear: The Folio ($70) is a carbon fiber-reinforced case that also doubles as a stand, while its less-expensive cousin, the Shadow ($35), features the same sturdy materials in a snap-on wraparound case. Both look like they could survive World War III, making them excellent candidates for rugged usage. The slim Blackout ($25) rounds up XGear's line with a snap-in cover that includes rubber feet on the back for maximum stability when on a flat surface.
Cygnett: With names like Lavish and Glam, you know that this Australian company doesn't shoot for the middle. Both models feature classy designs and book-style construction that protects your iPad while providing prompt access to its screen. Cygnett also makes the Agenda and SecondSkin cases, which are built with more protection and thinner profile in mind respectively, as well as the OpticClear family of screen protectors. (Prices on Cygnett products were not available at press time.)
SwitchEasy: The RibCage ($35) may look like the kind of accessories that you would find in the Addams household (or perhaps onboard the Nostromo), but its maker says that's because it's built to be extra-tough. Plus, it comes with two portable fold-out stands, an anti-static screen guard, a microfiber wipe and a squeegee to help you apply the film.
Modulr: This company makes only one product, but not for lack of ideas. Their eponymous accessory doubles as a case, wall mount, car mount, stand and much more, at prices that start at $99.
iFrogz: The accessory maker offers a variety of iPad cases, starting with its Silicone Wrapz ($30), made of soft silicone that wraps around the tablet and protects it from scratches and accidental falls. The SoftGloss case ($30) is somewhat similar, but is made of an even software material and features an etched pattern that seems to radiate from the Apple logo at the back of the iPad. The polycarbonate Luxe Lean hardshell ($30) features a glossy, metallic finish, while the slightly more expensive Luxe Original ($40) sports a split finish between one of seven colors and a velvety-looking charcoal. For simpler tastes, the company also produces the NeoFirm Burst ($25) and Envoy ($30) sleeves, built of neoprene and textured faux-leather respectively.
Nimbus: The Nimbus Tote ($50) combines the convenience of a tote bag with a transparent pouch at the front that can be used to store your iPad in plain sight. The bag's strap doubles as a hands-free holder for when you need to use the iPad while exploring a planet you and Captain Kirk have just beamed down to-I mean, for when you need to use it as a portable player while in line at your coffee shop.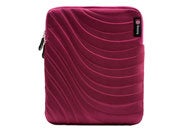 Booq: Speaking of Star Trek, the Taipan Spacesuit XS, which comes in black, red and silver, looks like it could have come straight out of Jean-Luc Picard's cabin, with its weavy looks, neoprene exterior and soft, non-scratch interiors. For the price of $30, perhaps it's no surprise that you'll have to provide the tricorder yourself.
MacloveÚ European style is out in full force in this company's iPad huge selection of cases and accessories, starting with its iShow series, which features hardback shells in various finishes that range from faux-leather, to transparent, to aluminium-and some variants thereof. For leather lovers, the company offers Diamond sleeve and Office case, which also double as a stand in both landscape and portrait mode. For maximum fashion value, look no further than the Melery, a series of stylish purses designed to carry your iPad (as well as, presumably, a lot of other things). Finally, if portability is not your concern, the Titan aluminium stand could be a stunning addition to your desk, and possibly an ersatz weapon to protect against home invasions. (No prices were available for Maclove products at press time.)
Noreve: The Tradition leather case doubles as a stand for both orientations comes in a variety of materials, colors and finishes that you can configure right from the company's Website. The price varies based on the configuration, but is typically between $85 and $95.
Gecko: The Glove silicon wraparound case comes in three colors: black, frost and pink and includes a screen protector and cleaning cloth for AU$30. If you prefer pouches, Gecko has you covered with the Traveler (AU$30), which places a premium on slimness and simple styling. Hard-case lovers, on the other hand, will prefer the Profile, made of scratch-resistant polycarbonate, which costs AU$50 and also includes a protective film.
Sumajin: The simple but elegant INK silicone wraparound case doesn't just look great—it also features a few clever touches that set it apart from the competition. First, it's only one of two accessories in this roundup that include a snap-off slot that allows docking the iPad without removing the case. Second, it features a recessed slot that redirects the tablet's sound towards the user for added clarity in noisy environments. Finally, the back of the case, which comes in seven colors and costs $35, has a recessed groove to improve the user's grip.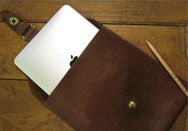 Col. Littleton tradition meets technology in the Littleton's Leather Bag for iPad ($110), a pouch designed to house Apple's tablet (with or without the standard case) in true old-west style-complete with WWII-style snap metal closure. The good Colonel will even personalize one for you with up to three initials.
Heidi Comfort:: If you like a natural look, Heidi's selection of horizontal and vertical carrier bags, made of a variety of leathers, hides and furs, are ready to meet you at the intersection of form and fashion, with prices ranging between $110 and $170. The company also makes three sleeves with the same materials; the latter go for between $62 and $78, depending on the model.
monCarbone: The HoverCoat ($90) is a carbon-fiber snap-on cover that comes in "mystery black" and "midnight black." Both models are hand-crafted, precision-engineered and featherlight.
Peasants and Travelers: The beautifully-detailed Metro-Envelope iPad bag features a leather-trim exterior, ultra-thin design and a handy cross-body strap for carrying your tablet around. A discrete magnetic closure and internal document pocket round up this $59 carrier.
Case-Mate: The Venture iPad stand Case ($90), as its name suggests, is a flip case that double as a stand. Ideal for traveling, the Venture also features a black leather exterior with green highlights.
Temple Bags: This collection includes a wide variety of bags, ranging from the simple Leather Sleeve ($59) to the fully-featured Black Case with Pocket ($205), a true powerhouse that doubles as a carrier bag and iPad stand and includes both an internal and external accessory pocket.