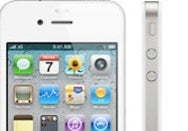 Making a white iPhone 4 is apparently a heck of a lot harder than you might expect. Apple on Friday released a terse statement indicating that the anxiously awaited white model of the latest iPhone now won't be available "until later this year."
Apple first announced the white iPhone 4 at the 2010 Worldwide Developer Conference keynote in June. The white iPhone 4, unlike previous so-called white iPhones that merely sported white backs, was shown to feature an all-white enclosure, surprisingly reminiscent of the original iPod.
When pre-orders for the iPhone 4 went live, however, the white model was curiously unavailable. In late June, Apple announced that the bleached model wouldn't be ready until late July, having "proven more challenging to manufacture than expected."
As recently as a week ago, at Apple's press conference regarding the iPhone 4's antenna, the company stated that the white model would be available this month.
Sadly, though, it seems that Apple's plans have changed. If you're waiting on a pearly white iPhone 4 to call your own, the company once again says that they "have continued to be more challenging to manufacture than we originally expected."
Apple did offer one piece of good news for customers, though: "The availability of the more popular iPhone 4 black models is not affected." Some may wonder whether that model is more popular since it is the only one available, but probably not to Steve Jobs's face.
(Disclosure: The author owns a small number of shares in Apple, Inc.)
32GB iPhone 4 (GSM, AT&T)
Price When Reviewed:
$599
16GB iPhone 4 (GSM, AT&T)
Price When Reviewed:
$485