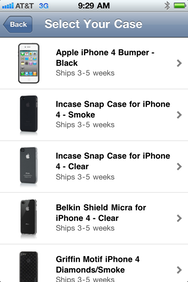 If you've been awaiting the free case for your ( non-white) iPhone 4 that Apple CEO Steve Jobs promised last week, your wait is over. Well, your wait for asking for a case is over—of course you'll still have to wait for the case to wing its way to your door. Apple on Friday released iPhone 4 Case Program, a free app—that's right, it's an app—that allows you to place an order for your free case.
After you download and install the 0.8MB app, you'll be prompted to enter your iTunes or Apple ID password, after which you will be presented with a list of cases to choose from.
Besides Apple's black iPhone 4 Bumper (which is the only color of Apple's bumper that's available), you can also opt for the Incase Snap Case for iPhone 4 in Smoke, the Incase Snap Case for iPhone 4 in Clear, the Belkin Shield Micra for iPhone 4 in Clear, the Griffin Motif iPhone 4 Diamonds/Smoke, the Griffin Reveal Etch iPhone 4 – Black/Black Graphite, the Speck Fitted Case iPhone 4 – Black Tartan, and the Speck PixelSkin HD iPhone 4 – Black. Apple quotes a 3 to 5 week shipping time for all of the cases, and notes that case selection and availability are subject to change.
Tapping on any of the cases will give you a description of the case as well as a photo gallery of a few images to allow you to get a better look at the prospective cases. When you've made your choice, you simply tap on the Select button for the case that you want. Apple will ask you to confirm your personal information (name, address, e-mail, phone, etc.); tap Place Order and blammo, you're done.
Why Apple decided to set up this process via an iPhone app rather than a page on the company's Website is unknown, but it's an interesting choice. During the intense pre-orders for the iPhone 4 last month noticed, some customers noticed that it was easier to place orders through Apple's Apple Store iPhone app rather than wading through the online Web store. Perhaps similar factors are at work here—or maybe Apple just really loves making iPhone apps.
Update: Of course, if I had read all the way through the app description, I would have noted that Apple uses the app to check the serial number and International Mobile Equipment Identity (IMEI) to verify that you are indeed using an iPhone 4 and are thus eligible for the free case. Using an iPhone app makes that process a lot simpler than getting users to look up that information and paste it in a Web form.