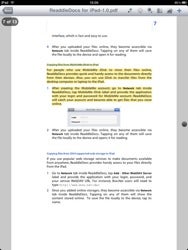 Ukraine-based developer Readdle has released an update for its document sharing and viewing app, ReaddleDocs for iPad. Version 1.5 of the app introduces the ability to highlight text inside PDF files and make notes anywhere in the document.
ReaddleDocs lets you manage and view MS Office, PDF, and iWork documents on your iPad. It can grab documents from PCs, Macs, Websites, e-mail attachments, iDisk, Dropbox, and other online file storage services, then save them locally on your iPad for offline viewing. One of its key features is a PDF viewer that opens large PDFs, supports full text search, has a text reflow mode, and handles PDF links and outlines.
ReaddleDocs's PDF viewer now lets you highlight text inside PDF files in several colors, make notes at any place in the document, and save these changes in a desktop-compatible PDF format. These new abilities could be especially appealing to students, who often need to highlight and jot notes in their text books, and professionals who routinely work with large documents.
ReaddleDoc sells for $5 and requires iOS 3.2 or later.