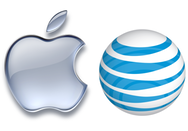 On Thursday, AT&T reported in its earnings call earlier that it activated 400,000 to 500,000 3G iPads during its second quarter. What may come as news, however, is just how many of these activations are coming from businesses—AT&T notes that a "surprising" number of business customers are approaching the company about the iPad.
This early embrace by businesses stands in contrast to the iPhone's first days on the market, when its lack of enterprise-class connectivity and security options led businesses to consider it more of a cool toy in comparison to the "professional" Blackberry.
Eventually, businesses warmed up to the iPhone—Apple Chief Operating Officer Tim Cook said earlier this week that it's now being deployed by 80 percent of the Fortune 100—and this enthusiasm seems to be carrying over to the iPad. (Cook later added that 50 percent of the Fortune 100 were deploying or piloting the iPad within the first 90 days of its availability.) According to AT&T, many companies are engaging in iPad trials, with some viewing the iPad as a potential replacement for laptops. Should companies begin adopting the iPad, the trend could spell massive, continued success for the already highly successful iPad. .
AT&T also gave the not-so-surprising insight that iPad users use more data per month than the typical iPhone customer, but less than the typical laptop-card customer. This makes sense since the iPad's bigger screen makes it considerably more appealing as a Web browser and video playback device than the iPhone. At the same time, its lack of traditional computer features such as a physical keyboard and Flash support mean that there's still plenty of tasks that have users turning to their laptops.
[via Business Insider]