Like several App Store offerings, Keymote lets you control your Mac remotely from your phone. But while similar apps provide a remote touchpad, virtual keyboard, or media controls, Keymote takes a different tack. The $4 app from Iced Cocoa merely populates your iPhone's screen with realistic-looking keys which trigger custom keyboard shortcuts on your Mac.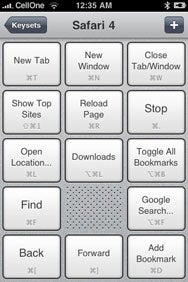 For Keymote to be able to control your Mac, you'll need to first download the free companion Keymote Receiver desktop application. When you launch Keymote on your Phone, you tap on New Connection in the app's Settings tab to pair your iPhone with your Mac. The process might have been made much simpler by having the New Connection setting pop up when you launch the app for the first time since the app won't work without that initial setup.
Although I've read reports of earlier versions of Keymote having problems with connecting to a Mac, the latest release of both the mobile app and its desktop companion worked perfectly in sync during my tests.
Keymote uses the term "keyset" to describe a bunch of keys arranged on the screen, with each keyset mapped to a specific keyboard shortcut and having a name. The app starts you out with four keysets (Exposé and Spaces, Front Row, Nav Pad, and Numerical Pad), and you either download more from the hundreds that are freely available from the built-in Keyset Store or create your own. (Again, don't be fooled by the "store" moniker—keysets are free to download.)
The Keyset Store takes its cues from the App Store, so it's both familiar and easy to browse. The sheer variety of keysets available is staggering—it's very likely that you'll never need to create one on your own. You can also mark any of the keysets you use as a favorite and add or rearrange keys within them.
Creating a custom keyset is as easy as tapping on the Plus button on the Keysets screen, giving it a name, and choosing a category for it. You then tap the Add button again, choose your key combination, and give it a name. You'll need to tap on the calculator-like LCD strip while setting up a new keyboard shortcut to bring up the iPhone virtual keyboard. You can even publish your custom keysets to the store if you think they might be helpful to others.
Iced Cocoa has designed Keymote and its keysets to act as an extension of your keyboard. You keep your iPhone handy when you work on your Mac, and type on the keys in Keymote to perform specific actions.
You could, for example, map Command-Option-L to a key and tap on it when you wanted to see the Downloads window in Safari. The app is designed more for the purpose of offloading the task of remembering keyboard shortcuts than anything else.
But Keymote suffers from a pair of drawbacks, only one of which the developer can control. The app does not automatically switch keysets when you switch between applications on your Mac. If you're using Safari and have its keyset displayed in Keymote but then switch to Mail, you have to manually change keysets on Keymote to use it with Mail.
The other drawback involves the combination of the iPhone's tiny screen space (especially when compared to a real keyboard of any size) and lack of tactile feedback. That makes for a less-than-ideal keyboard companion. As I completed my initial testing of Keymote, I found myself turning to the app less and less—it just didn't fit into my workflow.
That's not to say Keymote won't work for anyone. The app is well designed and, for the most part, does what it promises. If you find yourself frequently using a select number of applications on your Mac but having a hard time remembering all their keyboard shortcuts, Keymote could be a productivity booster. For most users, though, the awkwardness of remembering to switch keysets and the lack of tactile feedback makes Keymote a non-starter.
[Aayush Arya is a frequent contributor to Macworld.]