Train Conductor 2: USA isn't as strong on content as its predecessor, but at a budget price with new levels, it's still plenty of fun in small doses.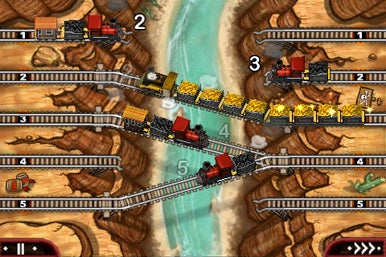 It's not a requirement for time management games to be good looking, but it's clear that The Voxel Agents take great pride in Train Conductor 2: USA, the sequel to Train Conductor. While the previous title in this series featured levels based on locales from the Australian Outback– the developers operate out of Melbourne – Train Conductor 2 has brand new areas modeled after four famous American cities and one landmark: Miami, New York, Nashville, Las Vegas, and the Grand Canyon. All of the artwork is colorful and well-drawn, while each level is fleshed out really well by the in-game soundtrack. Moreover, the tunes are fairly catchy, and they don't ever seem to grate on the ears.
Like the original title, the gameplay consists of using your touch-screen to direct trains on parallel tracks to their properly numbered (or color-coded) stations. By tracing a straight line from one track to another, the corresponding train will follow the new path automatically. If you're juggling too many things at once, you can also tap the trains to stop them momentarily while getting your bearings. When you direct a train to the wrong station, you'll merely miss a point going towards your high score – but if you outright crash a train into another one, you lose.
It's a little disappointing that the levels in Train Conductor 2 can't be switched between "nighttime" and "daytime" mode on the fly like the previous title. As a result, the overall game feels smaller now that areas like the Grand Canyon are only available in the daytime. Still, there are a handful of unique obstacles to overcome this time, whereas the previous Train Conductor just upped the number of tracks. My favorite level so far, New York, trades in the railroad tracks for the electric lines of the NYC Subway System, with underground pillars obstructing the paths between the 1, 4, A, Q, and S lines. It's a small obstacle, but it makes tracing connections between the lines a really tricky affair. Other areas mix things up accordingly: Las Vegas uses high-speed color matching, Nashville's "ghost" trains can pass harmlessly though each other, and the Grand Canyon requires you to navigate trains of varying lengths and speeds across the level's gigantic titular gorge.
Still, after you blow though all the cities once, there's little else to really see. You can only try to beat your best score, and if you're lucky to have friends playing the same app, you can post your scores on Twitter and Facebook for bragging rights. For 99 cents, Train Conductor 2 is fun while it lasts, but my attention invariably drifted elsewhere with no content to keep bringing me back. The Voxel Agents have stated that they'll be updating the game with downloadable content later on, which is good to hear – the initial launch version looks pretty bare right now.
As a parting shot, I'm disappointed that the scoring system has been retooled from the first Train Conductor. With TC2, building a high score doesn't go beyond earning a single point for each safely delivered train. Even important "can't miss" items like the Gold Rush cars and Demon Trains feel like a hassle to manage, since there's nothing extra gained for properly routing them to their appropriate stations. If anything, I'd like it more if TC2 still had a system for continuous multipliers to boost your high score at the end of the game.
It's good that Train Conductor 2 only costs a dollar – although it's certainly fun, colorful, easy-to-learn, and sports a cleaner interface, TC2 is still a significantly slimmer app than the first Train Conductor. Let's hope that as The Voxel Agents get more time to develop additional content down the road, they flesh out the experience a little bit more.
[McKinley Noble sorely wishes that his morning commutes were as interesting as this game.]