Picture this: mobile, virtual ping pong, with iPhones as paddles and an iPad as the table. This is the promise of Ping Pong Battle, but unfortunately, the developers at LIME seem to have bitten off more than they can chew.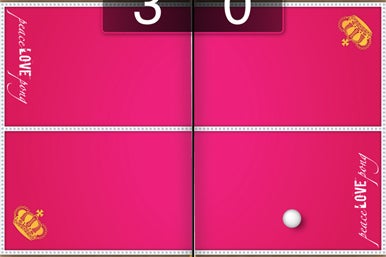 In order to play Ping Pong Battle, you must first download the iPad app. It seems a little weird that the two-player option would be first on the menu, but it becomes clear when you click on it. You get a choice to play with or without paddles; without paddles means the players tap the ping pong ball to serve and return.
But if you want to play "with paddles" — and this goes for both the one and two-player options — you muar download "Ping Pong Paddle," a companion app for an iPhone or iPod Touch. Then things get unnecessarily, excruciatingly complicated.
First, launch the iPad app, then select a game mode and table from a few choices (I like the pink one with crowns). Now launch the iPhone/iPod touch app. Once you've got both apps running on both devices, they will hopefully find each other through Bluetooth — emphasis on "hopefully." If you're successful, you just tap the button to start a game.
It is absolutely essential to have the sound turned up on both devices. Because the ball isn't visible on the iPad when you hit it, you have to listen to the intensity of the volume to know when it's time to strike, i.e. when the sound effect is loudest.
There's also the matter of holding and swiping your iPhone correctly in order to make contact with and apply proper force to the invisible ball. Needless to say, this takes quite a bit of getting used to.
Theoretically, all of the tutorial support included in the game should help out a lot, but it's still a struggle to perfect your technique. Both the iPad and iPhone apps have links to YouTube video tutorials, which are a nice thought, but they're pretty much just videos of the developers playing the game with everything coming together deceptively smoothly.
Somewhat ironically, Ping Pong Battle recommends that you turn off Wi-Fi and connect your devices through Bluetooth; of course, if the connection fails, you'll have to turn the Wi-Fi back on to access the online video tutorials.
LIME has a whole host of video tutorials and demonstrations on their YouTube account, leading to me to believe that perhaps all of that is necessary to make up for how unintuitive Ping Pong Battle is. Luckily, the latest update of Ping Pong Paddle (that's the iPhone and iPod touch app, for those getting lost) includes written instructions.
Ping Pong Battle is disappointing for the simple fact that it's a beautiful and creative app that is just as user unfriendly as possible. It costs a perfectly reasonable $5, but you need two iPhones or iPod touches to get the full experience, and even then, it's labor intensive to get the whole thing going.
But if you've got the time and patience to master Ping Pong Battle, more power to you.
[Meghann Myers is a frequent contributor to Macworld.]